Multiple injuries and one fatality following Saturday accident at Jay Road and County Highway XX
August 7, 2017 – Town of Farmington, WI – A 90-year-old Florida man became the fifth traffic fatality of 2017 in Washington County after he was involved in a two-vehicle accident on Saturday, August 5 at the intersection of CTH XX and Jay Road in the Town of Farmington.
According to reports the accident happened at 1:52 p.m. as one vehicle had come to rest in the ditch and the second remained on the shoulder of the road. While first responders were responding to the scene, the accident was upgraded to a serious injury with one operator trapped in his vehicle.
Upon the deputy's arrival, members of the Boltonville Fire Department were already on scene assisting with medical triage of three patients and extrication of one operator. Boltonville was further assisted by the Kewaskum Fire and Rescue and West Bend Rescue/Intercept.
The initial investigation revealed the deceased man was operating his vehicle eastbound on Jay Road with a female passenger who was also from Florida. Witnesses observed his vehicle stopped at the stop sign controlling eastbound traffic on Jay Road.
As he was stopped, witnesses also observed a southbound vehicle on CTH XX approaching Jay Road; southbound traffic is not regulated by a stop sign at Jay Rd. For unknown reasons, the eastbound operator proceeded into the intersection and was struck by the southbound vehicle in a 'T' bone manner. Failure to yield right-of-way from the stop sign was the cause of this crash and speed and alcohol are not factors.
The eastbound operator died at the scene while his passenger suffered significant injury and was transported. The southbound operator suffered minor injury and was not transported.
The crash is under investigation by the Washington County Sheriff's Office.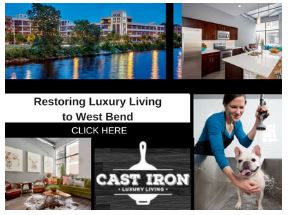 About Author
Washington Co. Sheriff