Mural at County Line Elementary School in Germantown to be demolished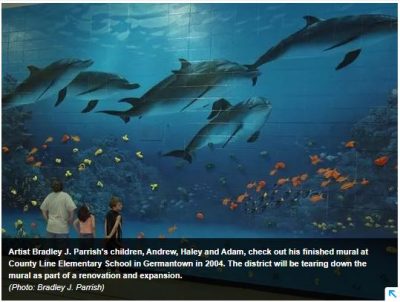 Oct. 1, 2017 – Germantown, WI – An $84 million referendum in Germantown passed in 2016 and now neighbors are finding out the new construction means the end of an artistic mural at County Line Elementary School.
Reporter Annysa Johnson's story was in Saturday's Milwaukee Journal Sentinel. A portion of the article is below.
In 2004, Bradley J. Parrish spent the better part of a year bringing to life a massive mural — a vivid, undersea landscape — on the gymnasium wall at County Line Elementary School in Germantown. 
And when he signed his name to the finished piece, in dedication to his three children and their classmates at the school, Parrish assumed it would be there for generations of children and families to enjoy.
As it turns out, it will not.
Plans call for the 16-foot-by-60-foot mural to be demolished as part of an $8.1 million renovation and expansion at the school.
"I'm bummed. I spent hundreds of hours on this piece … I got the kids involved," said Parrish, who has shown internationally and won numerous awards for his paintings over the years, according to his website. "It was a labor of love."
Click HERE to read the rest of the story.
Photo courtesy Bradley J. Parrish