Neighbors in Washington County warned about high risk of fire danger | By Ron Naab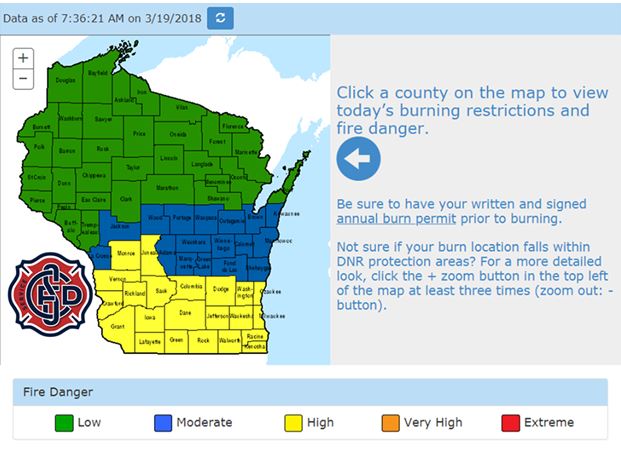 March 21, 2018 – Washington Co., WI – A weekend of warmer temps, lower humidity, and a slight breeze has further dried out our landscape. This has caused numerous wild land fires in southeastern Wisconsin.
Many fire departments in Washington, Ozaukee, and Dodge counties were out extinguishing fires that started as "controlled burns" and became out of control.
This dangerous situation has been caused by very few snow storms that had heavy, wet snow to pack the vegetation down and create a wet environment.
The next chance of precipitation looks to be Thursday, but only appears to be a 50-percent chance.
Firefighters urge landowners to practice good judgment by considering wind, amount of debris, and how quickly the fire can spread.
If conditions seem unsafe, they probably are…don't risk it!
The Wisconsin Department of Natural Resources has consequently raised the fire danger level for much of the southern half of the state.  Our three counties are included in the "High" potential zone.
Cover photo courtesy Aerial Drone Photography