New banner touts Spaulding Clinical's latest award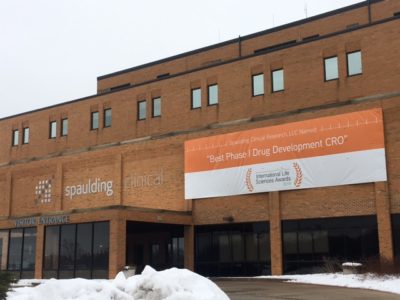 Dec. 26, 2016 – West Bend, WI –  Spaulding Clinical Research, LLC, a global clinical pharmacology, cardiac safety and biometrics solutions provider, has been recognized as the Best Phase I Drug Development CRO in the 2016 International Life Sciences Awards.
A new orange and white banner on the west side of the building highlights the award.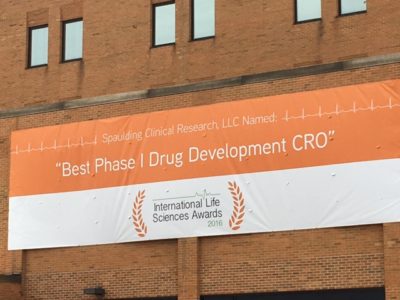 Spaulding Clinical Research was selected by an expert panel basing their decision on customer reviews, capabilities, previous accolades and overall company performance.
The International Life Sciences Awards, sponsored by Global Health & Pharma (GHP) Magazine, "recognize the exceptional work of firms in this industry," and "are a snapshot of the best this market has to offer," according to Tom Jones, Awards Executive at GHP.
This award is the latest in a series of recent clinical research accolades including:
• 2015 CRO Leadership Awards: Innovation and Quality
• 2014 CRO Leadership Awards: Quality, Innovation, Productivity, and Regulatory
• 2013 DPharm Disruptive Innovator of the Year
"It's an honor to have Spaulding Clinical, once again, singled out for excellence by industry experts," said Randy Spaulding, Founder and CEO of Spaulding Clinical Research. "Our continued recognition is a testament to Spaulding's dedicated professionals and the ingenious solutions they achieve every day."
Spaulding Clinical Research, LLC is a global CRO providing Phase I – IV drug development services to the biotechnology and pharmaceutical industries. Spaulding Clinical Research operates a 200-bed Clinical Pharmacology Unit, Cardiac Core Laboratory and provides full Biometrics/Scientific Affairs
services.