Please help a neighbor find her keys after she mistakenly leaves them at check out. Video shows a man and woman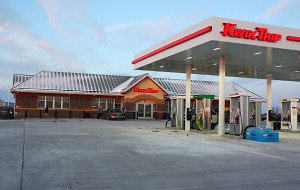 Dec. 26, 2016 – West Bend, WI – Little help this holiday season. On Saturday, Dec. 24 around 4:30 p.m. a neighbor in West Bend went to the Kwik Trip on Silverbrook. The woman accidentally left her keys at checkout and when she returned moments later they were gone.
Police reviewed store video and it appears a woman along with a taller man may have taken the keys by mistake and put them in a purse.
The couple did not get gas so it's difficult to see their license plate. Police said they may have been driving a dark /black vehicle.
If the Insider audience can please share this story so we can find the woman's keys that would be the best present ever.
Keys may be dropped at the WB Police Department on Vine Street just east of Main Street.
Or call me at 262-334-4526 and I'll help get them to the rightful owner. Thank in advance for the help.
UPDATE: One Insider suggested running the receipts at the register and see if the person in the video used a credit card and track them that way. WBPD said they did that; no credit card was used.