New facility complete at C&D Automated Systems in Allenton | By Emily Liddicoat
Allenton, WI – Growing business, C&D Automated Systems, of Allenton has started utilizing its recently completed 19,000-square-foot facility.
C&D Automated Systems specializes in building custom automated equipment that enhance the efficiency of other businesses, including robotic packaging and assembly systems, control panels, and complete conveyor systems.  The products they design and assemble influence industries including agricultural, automotive, and medical throughout the United States and Mexico.
The building, designed and constructed by American Companies of West Bend, broke ground in October 2019.  This was the third project that C&D has partnered with American on.  In 2005 we were hired to construct a steel structure which we attached to their original building.  Then in 2016 we added an additional sq. ft. to their building.  The newest facility contains over 20-foot ceilings and includes five overhead doors and two loading docks.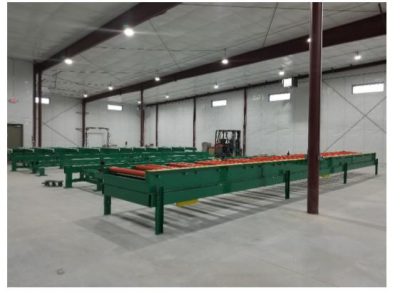 The C&D site had ample land available.  However, elevation requirements were a challenge to meet.  From the southeast corner of the proposed building to the northwest corner there was an approximately 16' drop in grade elevation.  There was another grade elevation drop on the south wall of about four feet.  To provide a suitable base to erect the building on, approximately 300 truckloads of fill were imported and compacted as engineered fill.  The building was then divided into two separate areas with a difference in floor elevation of 32".
During the design phase, it was determined that the building was going to be divided by a fire division wall creating two separate entities.  This was done because the building is larger than the 12,000 sq. ft. allowed by code without an automatic fire sprinkler system, which is not a cost-effective option at the location as there is no available municipal water supply.
Despite these unique challenges, Site Manager Dan Gish, was able to provide a quality product.  C&D owner Cory Passineau, said, "I am happy with the functionality of the new building.  It will assist with the growth of our company as we needed more space for the growing number, as well as the growing size of our projects."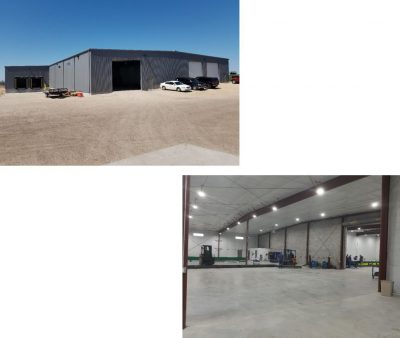 "Teaming up with growing businesses like C&D is exciting for us," said Todd Weyker, Chief Operating Officer for American Construction Services. "They trust us to do what we do best, so they can focus on their continued growth and success."