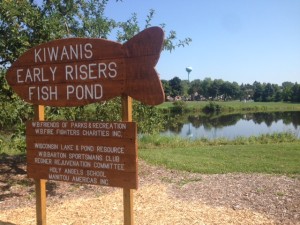 Watch for the West Bend Parks Department to install a fishing pier at Kiwanis Family fishing pond in the coming weeks.
"We're looking at a pier on the southwest corner by the parking lot," Park and Forestry Superintendent Mike Jentsch said.
The 50-foot fishing pier will be 'T' shaped and handicap accessible.
Jentsch said the Parks Department was also looking at another round of stocking fish including crappie, small mouth bass and minnows. "The blue gills are big enough to keep," he said.
This past year the Parks Department worked to dredge the pond, clearing it of cattails and layers of silt.
A new sign was put up on the south side of the pond, recognizing the Kiwanis and some of the larger donors who helped with the project. The pier will be paid for by a combination of donations and city funding.