New gazebo taking shape at Old Settlers Park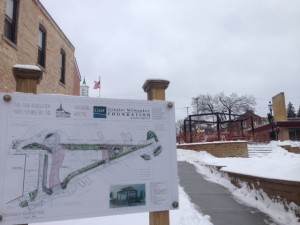 The new gazebo at Old Settlers Park is under construction. The black framework and some electrical is about the extent of the project at this point. The gazebo is at the southwest corner of the park near the intersection of Sixth Avenue and Elm Street.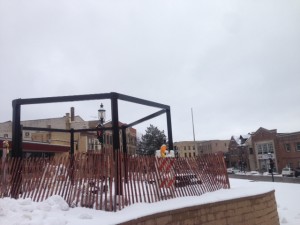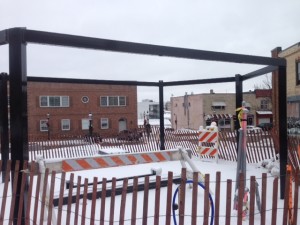 This past summer Kevin and Amy Zimmer purchased the old gazebo with a winning bid of $18.45.
Steve Awve was then contracted to move the 144-square-foot gazebo from Old Settlers Park to Schwai's in Cedar Creek.
The transport started Tuesday afternoon as Awve, armed with a forklift and some handyman know how, hefted the giant circular piece of metal and started the slow 8-mile trek to Cedar Creek.
It wasn't long into maneuvers when the clunky parade came to a halt at Chestnut and Eighth Avenue. "Stop, stop, stop," said lead man Mike running from his car. "You're never going to make it under the wire."
Awve set down the gazebo, scampered up the arm of the forklift and onto the top of the bell of the building to remove the cupola.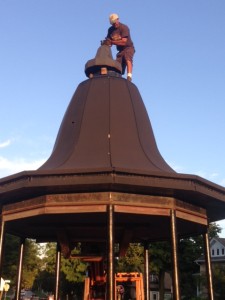 An easy tilt of the 2-foot cap and they should be good to go. If only Awve had known about the bees.
"We got bees in here," said Awve, with a couple one-handed swats. "I hate bees."
It sounded just like Harrison Ford when Indiana Jones came face-to-face with snakes in the Temple of the Forbidden Eye.
Mike seemed to hate bees even more. The pair worked and swatted and within minutes removed the metal, dodged the bees and were on the road again.
Getting under the wire was the easy part. There were challenges with the Highway 45 bridge on Paradise Drive and darkness was setting in.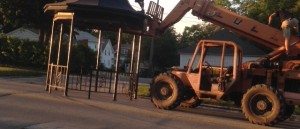 The new look to Old Settlers Park is being funded by a $200,000 grant from the Greater Milwaukee Foundation. Watch for bushes and flowers to be replanted in spring – with a hat tip to Roots & Branches.