New sign for Heavy Duty Ramps on Highway 45
In May http://www.washingtoncountyinsider.com reported on web retailer DiscountRamps.com purchasing Heavy Duty Ramps in Kewaskum.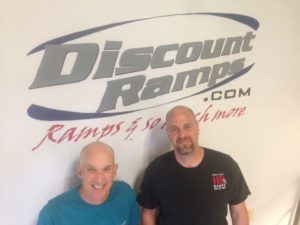 Larry Marmon and Bob Krolski
"It's the perfect marriage of two companies," said Larry Marmon, CEO of Discount Ramps.
"They're our biggest supplier and we're they're biggest customer but we service different markets."
Discount Ramps, 760 S. Indiana Ave., classifies itself as the "industry's biggest selection of low-priced, high-quality ramps and accessories" and the "one-stop online shop for all your loading, hauling, transportation, and mobility needs."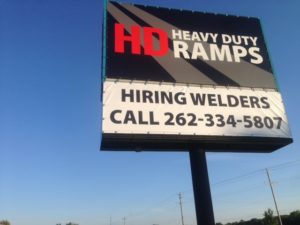 Heavy Duty Ramps, 7865 Sandy Ridge Road, Kewaskum, has been in the ramp manufacturing business for 36 years and produces over a thousand different variations of aluminum loading ramps.
Marmon said he had been in talks with Richard Beilstein, founder of Heavy Duty Ramps, for about a year.
"Beilstein was ready to retire and we thought it was the perfect opportunity for us to step in and take it to the next level," Marmon said. "Heavy Duty Ramps is a very well-run business with great products and customers and from a product innovation point of view it's our leading vendor."
Marmon said they will continue to use the former Key West location in Kewaskum for production.
"The biggest change is we're aggressively hiring more staff," he said. "We need welders and more people in the warehouse."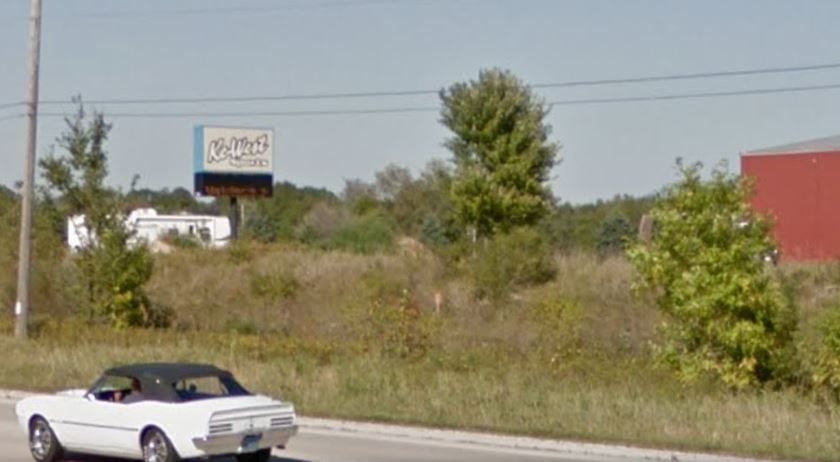 Motorists on Highway 45 will also notice a sign change at the Ke-West location.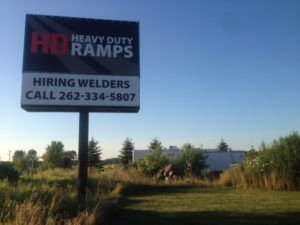 On a history note: Who can explain what Ke-West was? Do you remember the name of the owner?
The answer tomorrow