New West Bend Health Center to host public open house February 8 | By Tim Olsen
January 29, 2020 – West Bend, WI – The Froedtert and the Medical College of Wisconsin health network will host a public open house Saturday, Feb. 8, 9 a.m. to noon for its new West Bend Health Center, 1700 W. Paradise Dr., West Bend. Open house attendees should use the A entrance off 18th Avenue. Handicapped parking is available at the B entrance off Vogt Drive.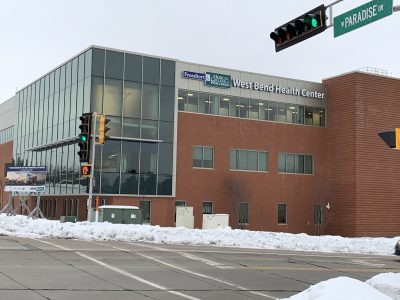 The health center will open for patient care on Monday, Feb. 17.
"The patient-centered design allows for better wayfinding, patient-driven attributes like self check-in, and a more efficient care environment," said Doug Marx, DO, vice president and chief medical officer of Froedtert & MCW Community Physicians. "This health care advancement in the West Bend area underscores our long-term commitment to the health and quality of life of the people of West Bend and Washington County, and supports our philosophy of providing access to academic medicine and the right care in the right place at the right time."
The new three-story facility includes primary care physicians and other care providers in family medicine, internal medicine and pediatrics, offering extended hours including early mornings, evenings, weekends and same-day appointments.
It also provides space for many new services, including urgent care (7 a.m. to 11 p.m. daily), occupational medicine, pain management, and an Orthopaedic Sports and Spine Center. A pharmacy with drive-through service has also been added. Rehabilitation and sports medicine services, currently offered at several local sites, have been expanded and centralized at the West Bend Health Center campus.
Other services at the new West Bend Health Center include diabetic education, endocrinology, dermatology, ophthalmology and optometry, and a retail optical shop. On-site lab and medical imaging services, including screening mammography, ultrasound, X-ray and CT, are also available.
Health center replacement was driven by the need to update a 1990s-era structure to better serve the community with greater efficiency, and positioned for future health care delivery.
The existing facility has remained open and operational while the new health center has been under construction on the southeast end of the West Bend Health Center campus. The existing building will be removed to expand parking availability after the new facility opens. Until then, patients and visitors will be offered complimentary, customer-friendly temporary parking options such as valet, shuttle service and drop-off options beginning Feb. 17. Patients will also be able to self-park and walk to the entrance if they prefer.
As part of the Froedtert & MCW health network's overall goal to provide cost-effective care in the most appropriate setting, pediatrics will relocate from Pleasant Valley Health Center to the West Bend Health Center Feb. 17. Gastroenterology and nephrology will move from the West Bend Health Center to Pleasant Valley Health Center Feb. 17.
Dermatology previously moved from Pleasant Valley Health Center to the West Bend Health Center. ENT/audiology, neurology and rheumatology services previously moved from the West Bend Health Center to Pleasant Valley Health Center.
The West Bend Health Center Ambulatory Surgery Center, previously located on the West Bend Health Center campus, relocated in August to the Froedtert West Bend Hospital campus, offering more centralized surgical care on the hospital campus to better meet the needs of patients.
West Bend Health Center: Square feet – 100,000, Employees – about 325, Development cost – $40 million.