Obit: Terry "Chaco" S. Maurer, 53, of West Bend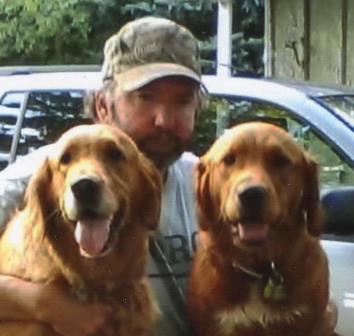 July 16, 2018 – West Bend, WI – Terry "Chaco" S. Maurer, 53, of West Bend found peace on Wednesday, July 11, 2018 at his home.
He was born on November 3, 1964 to Donald and Phyllis (nee May) Maurer in West Bend. Terry graduated from West Bend East High School. He worked at the Lighthouse Lanes bowling alley, worked for a neighbor on his farm, for Brittingham & Hixon Lumber, and later in the lumber yard at Menards until he retired. He occasionally worked for the Town of Barton in his retirement. He was a past member of the West Bend Barton and New Fane Sportsman Clubs where he shot on various Trap Leagues and earned numerous patches for perfect shooting scores that he displayed proudly on his vest, as well as many 1st place trophies along with his trap team.
Terry was an avid outdoors man. He learned to hunt at a young age from his father and Grandpa Leo. He loved the yearly deer hunting trips to his and his Dad's land up North. Other game Terry hunted were turkey, geese, duck, wild boar and bear. Back in 1996 following ankle surgery – Terry amazingly hobbled to and up into his tree stand on crutches. During this hunt he was noted as being the first hunter to drop a bear on opening day that year with one shot to the neck at 30 yards. Numerous deer mountings, racks, turkey tails and beards as well as bear rugs were displayed proudly on the walls in his home, each reminding him of that special hunt. His other passion in life were his Golden Retriever dogs, raising them all his adult life. You could often find Terry driving his ATV with his Golden's running along with him on his land. Terry will be deeply missed by his family, faithful four-legged companions April and Holly, as well as all who knew him.
Those Terry leaves behind to cherish his memory include his father, Donald Maurer; two sisters, Eileen Hanrahan and Lori Maurer; two brothers, Gary (Amy) Maurer and Kevin Maurer; nieces and nephews, Shannon Hanrahan, Heather Beilke, and Mary Schmidt (special friend Steven Perlich); Devan (Tom) Shepherd and Garrett (Shelby) Maurer and their son (great-nephew) Bennett Maurer; Nathan and Jordan Maurer; as well as aunts, uncles, other relatives and friends.
He is preceded in death by his mother, Phyllis Maurer; maternal grandparents, Steve and Elsie May; paternal grandparents, Leo and Floretta Brunner, as well as all his previous Golden Retrievers that were awaiting his arrival at the Rainbow Bridge.
A funeral service in remembrance of Terry will be held on Thursday, July 19, 2018 at 4:00 p.m. at the Myrhum Patten Miller & Kietzer Funeral Home, 1315 W. Washington St., West Bend.
The family will greet relatives and friends at the funeral home on Thursday from 1:00 p.m. until the time of service.
The family would like to give a special Thank You to the Hemophilia Foundation for all the help they provided Terry throughout his years.
A memorial to the Hemophilia Foundation in Terry's name is greatly appreciated by the family.