Obit: Albert "Bert" Faase, 84, of Cedar Community in West Bend.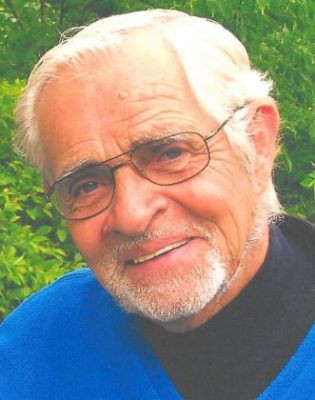 April 25, 2017 – West Bend, WI – Albert "Bert" Faase, 84, of Cedar Community in West Bend, passed away on Sunday, April 23, 2017 at his home with his family by his side.
He was born on March 24, 1933 to the late Frank and Marion (nee Bradley) Faase in Milwaukee.
Bert's life was a journey of love and joy.  He felt lucky to grow up with Jimmy on the same block in Milwaukee and they became friends for life.  They have had a zest for life, making each day special and filled with humor and fun.  Bert graduated from St Frances de Sales High School and two years of College before joining the United States Air Force.  He married Jimmy in 1954 just days before he shipped overseas to Germany.  As his wife, Jimmy was able to join him and they had a remarkable four years of service in Germany and France.  Several years of that service in Europe were lived in a beautiful, but run down, old chateau with running water and electricity provided by Bert's ingenuity.
Throughout their life, family was of utmost importance and their four children are a testament to their love.  Bert was a tremendous husband and father and with Jimmy, found special ways to be family together, to make life interesting, instilling values of hard work, kindness and integrity….and humor, there was always humor! As Explorer Scout Leaders they took countless trips with their carpeted busload of teenagers and helped so many young people.  In the process Bert and Jimmy stayed incredibly young at heart, a trait that only deepened and served them very well over these many years.
Bert was always up for a sense of adventure.  This was best expressed in the myriad of motorcycle trips all over the United States but mostly on winding, hilly, curvy roads where the beauty of God's creation filled their souls.  Likewise he had a passion for all things about flying.  Bert overcame a fear of heights to become a pilot, along with Jimmy, and again being astounded by the beauty of the skies he flew in.  Skiing and camping, rv-ing, boating and travelling throughout the world were also highlights in Bert's life.  All his life he was curious about how things worked.  He was a skilled carpenter, electrician …really anything he put his mind to he could do or fix or create.  A special love for him was the woodshop at Cedar Community where he thoroughly enjoyed his craft at making things but also fixing things.  He had a deep respect for those he worked with there.  Cedar Community itself became a great passion for Bert who was an active resident, historian and enthusiastic promoter of the good life of active retirement.
Bert was an active member of Pilgrim United Church of Christ in Grafton where his sense of helping those in need led him to be part of over  (?)  60 Mission Trips to many places throughout the world.  He and Jimmy were faithful participants at St Ben's Meal Program for over 40 years.  He gave of himself to so many others.  His generosity and service was part of his simple and practical faith.  He was grateful for the gifts he received and his prayer everyday was that of thankfulness.
Bert met everyone with a smile and an open hearted welcome.  His incredible sense of humor was present in everything he did, born out of a comprehensive theme in his life….seeking fun, enjoying life, giving to others, having no regrets, living very much in the moment, loving Jimmy and his family, loving life.
We will miss you, dear Bert, but rejoice in the amazing memories of you and look forward some day to be with you again in Heaven where we know you are now safe and extravagantly welcomed into your true Home.  Bless your heart.
Those Bert leaves behind to cherish his memory include his loving wife of 62 years, Jimmy; four children, Michael (Christy) Faase, Mark (Demetra) Faase, Kathleen "Kit" (Matt) Faase, Kenny (Deana) Faase;  Four grandchildren, Zachary (fiancée Kate Hurley) Faase, Erik (Courtney) Williams, Jack Faase, and Oliver Faase; a sister, Judy Koeppl; a sister-in-law, Debbie Faase; other relatives and friends.
In addition to his parents, he is preceded in death by his son, Billy Faase; two brothers, Frank (Bobbie) Faase and Tom Faase; his father and mother-in-law, Jack and Sophie Eckstein.
A Celebration of Life in remembrance of Bert will be held on Wednesday, April 26, 2017 at 3:00 p.m. at Pilgrim United Church of Christ, 1621 2nd Ave., Grafton.
The family will greet relatives and friends at the church Wednesday from 1:00 p.m. until the time of service.
They would be grateful for Memorials to be given to Cedar Community Partners in Caring Program.
Their family is extremely grateful and whole heartedly impressed with Cedar Hospice and the expertise and loving care they extended to Bert and his family in these last days.   And they are deeply appreciative of the outpouring of kindness and love of friends and neighbors who have meant so much.  Thank you.  Thank you….
The Myrhum Patten Miller & Kietzer Funeral Homes have been entrusted with Bert's arrangements.