Obit: Bernard "Bud" Felsecker, 98, West Bend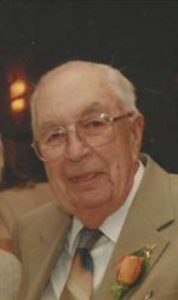 Bernard Felsecker died peacefully Wednesday, July 27, 2016 at Cedar Community in West Bend. He was born November 16, 1917 to the late Edwin and Elizabeth (Harmeyer) Felsecker in Calumet City, Illinois. He attended schools in Calumet City and in June of 1937 began training at the Spartan School of Aeronautics in Tulsa, Oklahoma where he obtained his private pilot's license. He was a proud member of the Spartan Dawn Patrol.
On June 14, 1941 he married Dolores Kreuziger and they raised four children during their 68 years together. He worked for David White and later Allen Bradley. He was a member of Holy Angels Catholic Church. Bernard enjoyed traveling with Dolores to Europe and many places in the U.S. His hobbies included stained glass work, building grandmother clocks and wood carving. His specialty was designing and making segmented wood bowls. Bernard enjoyed spending time with family, especially his grandchildren and great grandchildren.
Bernard is survived by his four children Carol Krolski, Lawrence (Barbara) Felsecker, Kenneth (Barbara) Felsecker and Mary (Dave) Smits. He is further survived by eight grandchildren: Michael (Stephanie) Reineck, James (Lisa) Reineck, Jeanne (Kevin) Bobofchak, Julie Felsecker, Lisa (Keith) Richard, Jeremy (Courtney) Felsecker, Jason (Crystal) Smits and Jessica Smits, his great grandchildren Thomas Reineck, Matthew Reineck, Evan Reineck, Ella Reineck, Alden Bobofchak, Alexander Bobofchak, Caleb Richard, Adelyn Richard, Elias Richard, Eliot Felsecker, Elizabeth Felsecker, Delaney Smits and Oliver Smits. He is also survived by his sister-in-law Isabelle Felsecker, nieces, nephews, other relatives and friends. Bernard was preceded in death by parents Edwin and Elizabeth Felsecker, his beloved wife Dolores, three brothers, Robert Felsecker, Donald Felsecker, and Thomas Felsecker and his son-in–law Bernard Krolski.
A special thank you to the caring staff of the Silverbrook household at Cedar Community West Bend, for their compassion and assistance during Bud's last years.
A Mass of Christian Burial to celebrate Bernard's life will be held Monday, August 8, 2016 at 1 p.m. at Holy Angels Catholic Church, 138 N. 8th Ave., West Bend. Burial to follow at Resurrection Cemetery in Mequon. The family will greet friends preceding the service Monday at 12 noon.