Obit: Bernard J. "Bernie" Kaehne, 84, of Kewaskum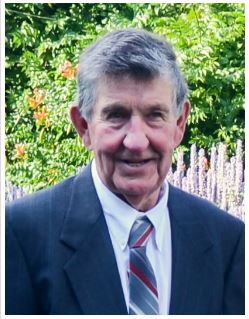 May 25, 2018 – Kewaskum, WI –  Bernard J. "Bernie" Kaehne, 84, of Kewaskum, passed away unexpectedly on Thursday, May 24, 2018, at his home.
Bernie was born on August 27, 1933, in Campbellsport, the son of the late Leo and Agnes (Serwe) Kaehne. On May 19, 1956, he was united in marriage to Linda Volm at St. Matthew's Catholic Church in Campbellsport.
Bernie valued his relationship with his beloved wife Linda.  They recently celebrated their 62nd Wedding Anniversary!  They worked together side by side to accomplish everything that was important to them.  Bernie was a flower lover and besides his family, his pristine yard was his pride and joy.  Although he kept very busy, he was always willing to sit and chat with friends and family. He also was a bird watcher and taught many people about the different kinds of birds.
Bernie also put in huge efforts to work hand in hand with Linda around the homes of their children & grandchildren. He grew up in a time of scarcity which taught him the lesson of taking excellent care of his belongings. Later in life he collected and saved items for future use. This was a blessing to family and friends because they could count on him for whatever they needed. He had a heart that was willing to share by borrowing or giving. Bernie loved people passionately, devotedly and protectively. He will be deeply missed by his family and everyone who had the pleasure of knowing him!
Those Bernie leaves behind to cherish his memory include his wife, Linda; five children, Sharon Burtard of Theresa, Kenneth Kaehne of Kewaskum, Nancy Kaehne of Kewaskum, Laurie Martin of Campbellsport, and Gary (Laura) Kaehne of Allenton; nine grandchildren, Jessica Kaehne, Amber (Ryan) Koll, Joshua Burtard, Connor Kaehne, Ryan Martin, Brooke Martin, Noah Kaehne, Vanessa Kaehne, Isiah Kaehne; two great-grandchildren, Malachi Kaehne and Gabriel Kaehne; a brother, Robert (Arlene) Kaehne; three sisters, Dolores Kahut, Patricia (Art) Troedel, and Marge Giese; three sisters-in-law, Ruth Arbogash, Joanne Volm,  Eileen (Reggie) Pierret; a brother-in-law, Merlin (Carol) Volm; other relatives and friends.
In addition to his parents, Bernie was preceded in death by a brother, Norman Kaehne; two sisters, Beatrice Manthei and Diane Herriges; a sister-in-law, Adeline (Richard) Weiss and four brothers-in-law, William Jr. (Peggy) Volm, Bobbie Volm, Norman Arbogash, and Elmer Giese.
A Mass of Christian Burial for Bernie will be held at 4:00 p.m. on Wednesday, May 30, 2018, at Holy Trinity Catholic Church, 331 Main Street, in Kewaskum, with Rev. Edwin Kornath officiating.
Bernie's family will greet relatives and friends at the church on Wednesday from 2:00 p.m. until the time of Mass.
In lieu of flowers, memorials to the family are appreciated.
The Myrhum Patten Miller and Kietzer Funeral Homes have been entrusted with Bernie's arrangements.