Obit: Betty Jansen Backhaus (nee Berg), 82, of West Bend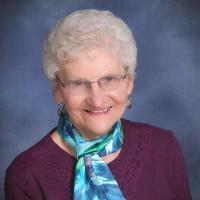 June 1, 2017 – West Bend, WI – Our dear mom Betty Jansen Backhaus (nee Berg), 82, was peacefully called home to her Savior on Wednesday morning, May 31, 2017. After a courageous effort to survive, she passed quietly while surrounded by her loving family at Ivy Manor Assisted Living where she resided since March 2, 2017.
Mom was born Elizabeth Ann Berg to John and Anna Berg (nee Mueller) on August 16, 1934 in the town of Addison, Wisconsin. During her grade school years mom's family moved to West Bend where she attended Holy Angels School and West Bend High School.
Betty married our dad Richard L. Jansen on October 2, 1954 (preceding her in 1977) and our stepdad Gerald G. Backhaus on August 15, 1987(preceding her in 2009). Mom was also preceded in death by her parents and in-laws Lawrence and Rose Jansen, granddaughter Theresa Zwack, her loving siblings Alex (Irene) Berg, Arnie (Esther) Berg, Bernice (Tony) Berres, and Rosaline Kling, as well as dad's siblings Rita Wenzlaff, Mary Gundrum and most recently Thomas Jansen.
Those of us left to treasure our precious mom's memory include Sue (Mark) Hammen, Gary (Julie) Jansen, and Carol (Paul) Zwack. Grandma Betty as she was fondly known by so many is also survived by Andrew (Carol) Hammen, Aaron (Emily) Hammen, Bradley (Katherine Chiroff) Jansen, Melissa (Martin) Blair, Mathew (Kelsey) Zwack and Peter Zwack.
Great-grandma Betty had a very special bond with her first great granddaughter Harper Kate Hammen who she always referred to as, "the light of my life." And, prior to mom's final hospitalization on May 6, she achieved her final goal of realizing the birth of her first great grandson Graeme Edwin Hammen.
Betty is also survived by her sister-in-law Ruth Jansen, brother-in-law Ralph Wenzlaff, numerous nieces and nephews, Jerry's children and grandchildren as well as many appreciated and constant friends.
Our dear mom impressed us consistently with her great love of faith, family and friends. We will miss her feisty spirit, her infamous one-liners, her apple slices, the butter horns and Thanksgiving gravy, as well as her forever-promised poppy seed tortes.
Mom and Jerry's fondest years together were spent at their Birch Lake log cabin. They helped our family make endless memories while fishing, floating and of course water skiing.
Throughout her years mom was proudly employed by Barton School, The Marine Bank, The West Bend Company and finally in "real retirement" for the food service program at the UW-Washington County Campus. Her many friends included those she joined to quilt with at Holy Angels Mission Circle. She treasured her forever Barton Homemaker's Club friendships and the lunches shared with high school classmates through their monthly birthday club. Mom treasured her years of polka dancing, appreciated a good hand of sheepshead and couldn't wait to be called on to sub for her daughters' monthly Bunco group of lovely ladies.
We invite you to help us celebrate Betty's life with a Mass of Christian burial at Holy Angels Church in West Bend on Monday, June 5, 2017 at 6:00pm with Fr. Pat Heppe and cousin Fr. Werner Wolf presiding. We will greet relatives and friends from 3:00 until 5:45pm. Burial rites will take place on Tuesday, June 6, 11:00am, at the new St. Mary's Cemetery.
In lieu of flowers, memorials would be appreciated to Holy Angels School or to The Threshold in memory of Betty's beloved niece "KB," Kathy Berres (preceding her in 2016).
Heartfelt thanks go out to our mom's wonderful caregivers at Ivy Manor Assisted Living. Your care and compassion will not be forgotten along with the Serenity Hospice staff who helped guide us during mom's final weeks' journey.
We will miss you forever mom but know that in loving you we must show our greatest gratitude by letting you go.  As you would say, "This dance was so great I feel like I died and went to  heaven!"
The Schmidt Funeral Home of West Bend is serving the family.