Obit: Catherine A. Schmidt nee Groessel-Wollner, 97, of West Bend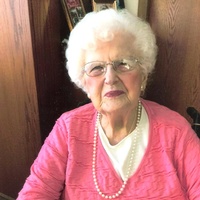 Jiune 26, 2018 – West Bend, WI – Catherine A. Schmidt nee Groessel-Wollner, 97, of West Bend passed away on Sunday, June 24, 2018 at the Kathy Hospice in West Bend.
She was born in Algoma, WI on July 25, 1920 to John and Anne (nee Pinger) Groessel and lived in Algoma until the age of 4. After moving to West Bend she lived with her sister and her husband, Clara and Edward Krejci and their family.
She attended Holy Angels Grade School in West Bend, graduating in 1934 and graduated from West Bend High School with the class of 1938.
As a member of Holy Angels Church she served on the parish council.
After high school she was employed by the First National Bank of West Bend for nine years as a teller and secretary.
On May 30, 1942 she was united in marriage to Clayton Wollner at Holy Angels Church. Clayton died on August 9, 1970.
They had three children: Steven, Mark and Catherine.
After her children were all in school she took employment at the Schloemer Law Firm in West Bend as a Para-Professional Legal Assistant. She worked there for 18 years, until 1975. During that time she belonged to the Washington/Ozaukee Counties Legal Secretaries Association, serving as Governor and other offices.
On September 20, 1975 she was married to Leander J. Schmidt Sr. at Holy Angels Church. After their marriage they became members of St. Frances Cabrini Parish in West Bend where she was a member of the Christian Mother's Society.
Kay was also a member of the West Bend Woman's Club.
She enjoyed working in her flower beds, playing bridge and above all – DANCING!
Kay is survived by her daughter Catherine Noyes, her grandchildren: Ben (Jen) Wollner, Scott (Kris) Noyes, Brooke Wollner, Michael (Danni) Wollner and Clayton Wollner and her great-grandchildren: Clayton, P.J. and Elizabeth Wollner, Annabelle and Henry Noyes and Lilly, Jolene and May Belle Wollner along with a great-grandson to be.
She is also survived by a very special step-son and his wife, Dr. Robert and Jane Schmidt of Richmond, VA and several very special and loving nieces and nephews and very dear friends. She is further survived by step-children and step-grandchildren.
Catherine is preceded in death by both her husbands and both of her sons, her parents John and Anna Groessel, four sisters, Mary, Clara (Edward) Krejci, Sister Mary Anicetus and Sister Mary Leonilda, two brothers, Leo (Mickey) and Joseph, her mother-in-law and father-in-law Edward and Anna (nee Tesar) Wollner, brothers-in-law and sisters-in-law: Claude and Beatrice Wollner, Rosemary and Jack Foley and nieces, nephews and dear friends.
A Mass of Christian Burial will be held on Friday, June 29, 2018 at 6:30 p.m. at St. Frances Cabrini Catholic Church in West Bend. Visitation will be at the Schmidt Funeral Home in West Bend on Friday from 3:00 p.m. until closing of the casket prayers at 6:00 p.m. Private burial will be held Saturday in Holy Angels Cemetery. Memorials may be given to St. Frances Cabrini Church, Holy Angels School Trust Fund or Cedar Community in West Bend.
We would like to extend a special and heartfelt Thank You to Dr. G. Michael Mosley and his nurse Jane and all the staff at Cedar Community especially the caregivers at Cedar Bay East who gave her so much love and wonderful care for over 15 years!
We would also like to thank Amy and Scott Schmidt for their kindness these past 13 years.
The Schmidt Funeral Home in West Bend is serving the family.