Obit: Claudia Laubach (Beisbier / Uelmen), 95, of Kewaskum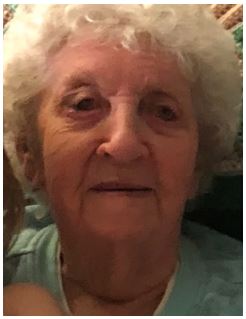 Oct. 22, 2018 – Kewaskum, WI – Claudia Laubach (Beisbier / Uelmen), 95, of Kewaskum was called home to be with the Lord on October 22, 2018.
Claudia was born in the Village of Kewaskum on March 9, 1923 to the late Therese (Kral) and Albert Beisbier.  She grew up in Kewaskum and attended Holy Trinity Catholic School and graduated from Kewaskum High School with the class of 1940.
Claudia was employed at L. Rosenheimer department store until April 1942.  She then accepted the position as private secretary to Adolph Rosenheimer, Jr., president of Kewaskum Aluminium Company.  She held the position until June 1945.  On September 4, 1943, Claudia was united in marriage to Alex Laubach at Holy Trinity Catholic Church, and in the spring of 1945 they settled on a farm in the New Fane area.  They resided on the farm until 1957, moving to the Village of Kewaskum.  Claudia was then employed in the office of Kewaskum Mutual Insurance Company for seven years.  In 1964, she accepted the position as business manager with Honeck Chevrolet in Kewaskum, retiring in January 1990.
Besides working outside the home she raised her family.  She especially loved the Christmas Season, doll collection, embroidery, craft fairs and interior decorating.  She enjoyed her visits with her great-grandchildren and was an avid Packers and Brewers fan.
Claudia was preceded in death by her beloved husband, Alex; her parents, Theresa and Albert Beisbier, her step-father, Elmer Uelmen; her daughter, Vivian Reis; and her son-in-law, Andy Reis.
Those Claudia leaves behind to cherish her memory include son, Richard (Sue) Laubach of Kewaskum; six grandchildren, Tory Laubach of Batavia, Tanya (James) Stippich of Kewaskum, Tiffany Laubach of Kewaskum, Michael (Michelle) Schield of West Bend, Michelle Amundson of Arkansas and Melissa (Jason) Morgan of West Bend.  Further survived by nine great-grandchildren, Brady Laubach, Kylie Stippich, Emerson Stippich, Kensley Stippich, Erikson Stippich, Elijah Stippich, Jordan Morgan, Skylin Amundson and Rylee Schield; as well as many other relatives and friends, especially those of Meadow Creek Apartments in Kewaskum.
A special thank you to the staff and nurses at Hope Health and Rehab in Lomira and for the Hospice Care they provided Claudia.
Mass of Christian Burial for Claudia will be held at 12 Noon on Thursday, October 25, 2018 at St. Michael's Catholic Church (8883 Forest View Rd. – Kewaskum, WI  53040) with Father Jacob Strand officiating. Burial at St. Michael's Catholic Cemetery to follow.
Claudia's family will greet relatives and friends at Church on Thursday from 10 am until the time of Mass.
The Myrhum Patten Miller & Kietzer Funeral Home of Kewaskum has been entrusted with Claudia's arrangements.