Five golfers from Hartford Union High School named Academic All State | By Teri Kermendy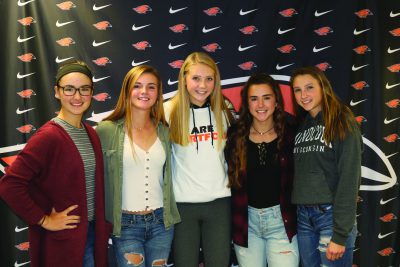 Oct. 22, 2018 – Hartford, WI – The Golf Coaches Association of Wisconsin (GCAW) is pleased to announce Hartford Union High School Juniors, Lilly Betts, Sophia Christianson, Kenna DeRosa, Amanda Ruona, and Brooke Sill, are Academic All-State honorees for the recently concluded 2018 girls' golf season, receiving a designation of Honors.
Students are nominated by GCAW member coaches if they meet the following criteria:
1) A cumulative grade point average of at least 3.25
2) Participation in at least 75% of their team's varsity matches
3) Are at least a sophomore in high school
These five student-athletes serves as a great example to others, proving that academic and athletic successes are not mutually exclusive.  The coaches association is proud to announce 319 girls from 96 high schools have been honored this year for maintaining high academic standards in the classroom while competing in varsity golf.  In fact, the average cumulative GPA of this year's honorees is an exceptional 3.794.
"I'm very proud of how they performed not only on the golf course this season, but more importantly their outstanding achievements and dedication to academics.  Like what they are learning in the classroom, what they learn on the golf course teaches them honesty, integrity, perseverance, determination, and the formation of lifelong friendships," said girls golf coach Frank Robb.
The GCAW was formed by high school golf coaches in 1986 to help build Wisconsin's reputation for developing quality junior players by promoting golf in our schools and communities. Besides honoring both boys and girls who succeed as student athletes, the association also selects an annual All-State team for boys and girls based on their playing ability.  An academic 'Team' award honoring high school teams with the highest cumulative GPA is also acknowledged.  The girls' team award will be announced in March, 2019.