Obit: Daniel F. Cwiklinski, 94, of Jackson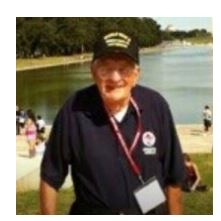 Nov. 25, 2017 – Jackson, WI – Daniel F. Cwiklinski was reunited with his beloved wife Dorothy on November 24, 2017 at the age of 94 years.  He was born in Milwaukee on July 25, 1923 to the late Joseph and Jane (Novachek) Cwiklinski.
He proudly served his country with the United States Army during World War II.  Following his discharge, he returned to Milwaukee.  He was a loyal employee of Cutler-Hammer for 44 years, retiring in 1994.
On July 6, 1946, he and Dorothy Sibinski were joined in marriage.  He treasured the bond they shared for the rest of his life.  He died wearing the ring he gave her more than 71 years ago.
Together they raised 8 children.  He enjoyed coaching his 6 sons in baseball and basketball and was an avid supporter of their daughters' various activities.
Dan is survived by his children: Jim (Pat), Gerald (Pat), John (Joan), Joe, Daniel (Willetta), Jane (Dave) Rott and Julie (Joe Novack); daughter-in-law Cindy; 22 grandchildren; 15 great-grandchildren; other relatives and friends.
In addition to his wife Dorothy and his parents, he was preceded in death by a son Jeff.
Funeral services will be held on Thursday, November 30 at 6 p.m. at the Schmidt Funeral Home in Jackson.  Burial will be Friday at 1 p.m. in Amberg Cemetery in Amberg, WI.  The family will greet relatives and friends during a period of visitation at the funeral home on Thursday from 4 until 5:45 p.m.
In lieu of flowers, memorials to the American Cancer Society appreciated.
Dan's family wishes to express great appreciation to the staff at the Pavilion at Glacier Valley in Slinger for their gentle and loving care during his last days.