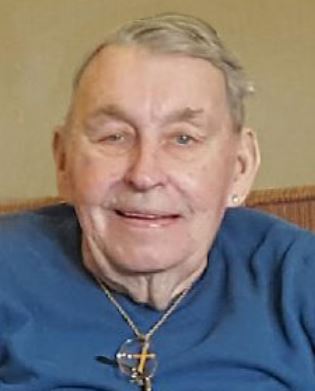 Dec. 22, 2017 – West Bend, WI – Dewayne P. "Drayno" Grauden Sr., 85, of West Bend passed away peacefully with his family by his side on Thursday, December 21, 2017 at Kathy Hospice. He was born on April 2, 1932 in Chicago, Il, the son of Paul and Amelia Grauden (nee Weldum).
Dewayne graduated from Merrill High School in 1949 and enlisted in the U.S. Airforce in 1952 where he fought in the Korean Conflict. He retired from the military in 1992.
Dewayne graduated with a B.S. in Chemistry and Biology from U.W. Stevens Point. Later, he worked for Dupont Company as a Chemist and Biologist. He was a member of the V.F.W. in Slinger and the American Legion in Allenton. Dewayne "Drayno" loved hunting, fishing, camping, horse shoes, playing cards, garage sales, polka music, and mixing drinks at Little Switzerland and House of Heilemans. Most of all, he loved spending time with his family.
Those Dewayne leaves behind to cherish his memory include his wife, Gisela; children, John, Debra (Mark) Banton, Dewayne "Paul" Jr. (Connie), Darren (Stephanie), and Dawn (Tom) Bergmann; grandchildren, Kota, Beau (Ashley), Brandon (Jessie), Ashley, Joshua, Dakota, Amber, Kendra, and Taylor; great-grandchildren, Bella, Brady, Vinnie, Jonah, and Haven; sister-in-laws, Hannelore, Christa, and Claudia. He is further survived by nieces, nephews, other relatives and friends. He was preceded in death by his parents; his uncle and aunt, Albert and Selma Weldum.
A funeral service in remembrance of Dewayne "Drayno" will be held on Friday, December 29, 2017 at 7:00 p.m. at Myrhum Patten Miller & Kietzer Funeral Home, 1315 W. Washington St. West Bend, WI. 53095. Dewayne's family will greet relatives and friends from 3:00 p.m. until the time of the service. A private burial will take place at Washington County Memorial Park.
In lieu of flowers, memorials are appreciated to the Stars and Stripes Honor Flight.
Dewayne's family would like to thank St. Joseph's Hospital ICU staff and the staff of Kathy Hospice for their care and support.