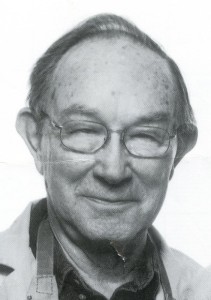 Donald "Don" H. Clement, 88, found peace on Saturday, January 9, 2016 at the Cottages at Cedar Run, West Bend.
Don was born in Sheboygan Wisconsin on September 11, 1927 to the late Clarence and Marie (Herr) Clement.   He graduated from Sheboygan Central High School in 1945, served in the U.S. Navy, and attended the University of Minnesota, graduating in 1953 with a degree in Mechanical Engineering.  On June 20, 1953 he was united in marriage to Carol Cooper at the Wesleyan Foundation on the University of Minnesota campus.  They moved to West Bend where Don began his 32-year career at the West Bend Co. and where they became life-long members of the 5th Avenue United Methodist Church.  Don was a past master of West Bend Masonic Lodge #138, served as treasurer and secretary, and as Associate Guardian of the Order of Job's Daughters Bethel #25.  He was a 32nd ° M.S.A. Scottish Rite Mason, a member of York Rite and Tripoli Shrine.
Many knew Don by the nickname "Grumpy", but also knew he loved to tease and was a softy under his "grumpy" exterior.  Don loved gardening, camping, sailing, playing skat, volunteering and most of all, woodworking.  He enjoyed the comradery and time spent at the Cedar Community Woodshop creating beautiful things. Don and Carol also loved to travel. Their destinations included China, Australia, New Zealand, the Galapagos Islands and much of North and Central America and Europe.  They shared their passion for travel with their family often taking their children and grandchildren with them on their trips.  Don was a loving and devoted husband and father and cherished friendships with many, including Supper Club and church friends and his Masonic brothers. Don was kind and generous in a quiet and unassuming way.  He will be dearly missed by family and friends.
Don is survived by his three children, Nancy (Mark) Dolenshek of Wausau, Sally Schmidt of Milwaukee, and Robert (Jane Norton) of Edinburgh, Scotland; four grandchildren, William and Emma Dolenshek, and Christina (Andrew) Waala and Peter Schmidt; his sisters, Marcia (Kermit) Beuchel and Karen (Ron) Wanke; brothers, Neal (Rosie) and Glenn Clement; sister-in-law, Agnes (Nessie) Cooper; many nieces and nephews; other relatives and many friends.
Don was preceded in death by his parents; his wife, Carol; two infant sons, Charles and John; son-in-law, Matthew Schmidt; brothers, Robert (Ann) and Gerald Clement; brother-in-law, Robert Cooper; and sister-in-law, June Clement.
A Memorial service in remembrance of Don will be held on Thursday February 4, 2016 at 5th Ave United Methodist Church of West Bend.  Visitation will be at the church from at 11:00 a.m. until 1:00 p.m. A Masonic service will be held at the church at 1:00 p.m. immediately followed by the Memorial service at 1:30 p.m.
The family requests that memorials be made to the Cedar Community Woodshop through the Cedar Community Foundation, Inc. (113 Cedar Ridge Drive, West Bend, WI  53095-9902)
Don's family would like to thank the nurses and staff at The Cottages at Cedar Run and Cedar Hospice for the loving care they gave Don during his residence there.
Myrhum Patten Miller & Kietzer Funeral Homes have been entrusted with Donald's arrangements. Additional information and guest book may be found at www.myrhum-patten.com.