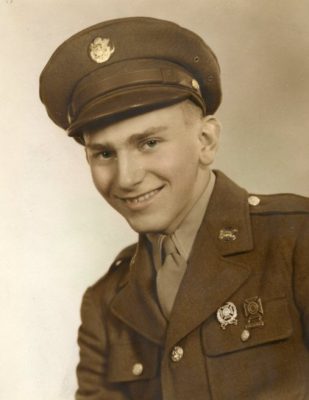 June 30, 2018 – West Bend, WI – Donald H. "Donie" Schoenbeck, 92, of West Bend, passed away on Wednesday, June 27, 2018, at Kathy Hospice in the town of Polk.
Donald was born on March 29, 1926, in Cedarburg, the son of the late Fredrick and Irene (nee Eichstedt) Schoenbeck. He was united in marriage to Pearl Faber at Peace Lutheran Church in Hartford.
Donald was employed by the West Bend Company for over 25 years. He loved to travel, visiting the 52 states, polka music and dancing, and he was also a hunter. After graduating from West Bend High School, he proudly served his country in the U.S. Army during World War II from 1944 to 1946 earning a bronze star.
Those Donald leaves behind to cherish his memory include his wife, Pearl; a sister, Pearl (nee Schoenbeck) Zimmerman; a sister-in-law, Lucille Buckley; nieces, nephews, other relatives and friends.
In addition to his parents, Donald was preceded in death by his parents-in-law, John and Nora Faber; a brother, Alex Schoenbeck; four sisters, Holda Schoenbeck, Irene Schoenbeck, Violet Densow, and Sodona Zimmerman-Wilson; two brothers-in-law, Robert Buckley and Roland (Lois) Faber; two sisters-in-law, Dorothy (William) Kruckenberg and Jeanette (Roy) Lenhardt.
Funeral services for Donald will be held at 1:00 p.m. on Monday, July 2, 2018, at First Immanuel Lutheran Church, W67N622 Evergreen Blvd., in Cedarburg. Pastor Randolph H. Raasch will officiate and burial with military honors with follow at Washington County Memorial Park in West Bend.
Donald's family will greet relatives and friends at the church from Noon until the time of service.
In lieu of flowers, memorials to the Guardian Angel Fund at First Immanuel Lutheran School are appreciated.