Obit: Edgar W. Bingen, 89, of the Town of Addison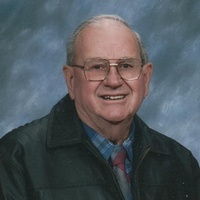 May 27, 2018 – Town of Addison, WI – Edgar W. Bingen of the Town of Addison died on Thursday, May 24, 2018 at The Kathy Hospice at the age of 89 years.  He was born on October 8, 1928 to the late Joseph and Carolina (nee Wolf) Bingen.
Edgar was the repairman for the local farmers in the neighborhood, which at times could consist of being a plumber, electrician, fabricator, welder, or backhoe operator.  He could fix any kind of farm machinery, tractor or lawnmower.  He worked side by side with his own father, and then later with his son Bill well into his retirement.
He also helped his son Bill on the family farm, riding along in the truck to set up ag baggers, and could often be found tinkering on equipment in the shop.
He farmed on the family homestead his entire life, even doing daily chores up until the day he went into the hospital.
Edgar was a lifelong Town of Addison resident.  He was also a member of St. Anthony Catholic Church until it's closure and then a member of St. Lawrence Catholic Parish.
He enjoyed sitting on the old porch swing, appreciating the view, and just taking everything all in. Alongside him would be his loyal dog Lightning.
He would often say he was one of the only ones left from his original generation in the neighborhood.
He truly loved his grandchildren and they truly loved him, some who were blessed to live on the same property and see him almost every day.
Edgar appreciated the simple things in life – God, family, and the beauty of the land.
He will be greatly missed.
Survivors include 4 children Bill (Debbie) of Allenton, Nancy of West Bend, Carolyn (Michael) Wiedmeyer of West Bend and Alan of Allenton; 7 grandchildren: Blake (special friend Brooke Hattori), Brooklyn (special friend Cody Oelhafen) and Broc Bingen, Emma and Allison Wiedmeyer and Kirsten and Natalie Bingen; 1 sister Dolores Weiss of St. Anthony; 1 brother Walter of West Bend; his special friend and companion Lightning; other relatives and friends.
In addition to his parents, he was preceded in death by 1 son Jim, his former wife Karen Yogerst; brothers and sister Richard (Margaret), Verena (Joe) Weiss and Harvey (Jeanette), brother-in-law Lawrence Weiss and sister-in-law Betty Bingen.
Memorial Mass of Christian Burial will be held on Thursday, May 31 at 6 p.m. at St. Lawrence Catholic Church with Rev. Davies Edassery presiding.  Private burial will be in St. Anthony Cemetery.  The family will greet relatives and friends at the church on Thrusday from 3 until 5:45 p.m.
The Schmidt Funeral Home of West Bend is serving the family.