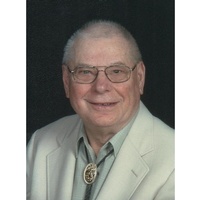 August 20, 2017 – Town of Barton, WI – Edward A. Stern of the Town of Barton died on Sunday, August 20, 2017 at the age of 90 years. He was born on December 12, 1926 in the Town of Osceola to the late George and Alma (nee Kutz) Stern.
He entered the United States Army in August of 1945, and completed basic training in Kentucky.
On July 6, 1946, he was united in marriage to Virginia M. Knoeck in Kentucky. The couple returned to Wisconsin, settling in West Bend.
For a short time, he worked as a concrete worker and in the construction trades. In the early 1950's he started working at Gehl Company. He worked in various departments, but mainly worked as a welder. In 1989, he retired after more than 35 years of employment.
He enjoyed hunting and fishing. He shared his love for the outdoors with his family, mainly his grandchildren. In addition to trips to the family cabin on Pine Lake, he traveled to Alaska, Idaho and Canada to expand his passion for hunting and the outdoors.
He was a member of the Hexelbank Club at Gehl Company.
Survivors include his daughter Cheryl Schairer of West Bend; 1 daughter-in-law Rosemarie Stern of West Bend; 3 grandchildren: Jay (Cindy) Stern, Ryan (Jaime) Stern and Eric Schairer; 4 great-grandchildren: Danielle and Abby Stern and Breeana and Quentin Stern; 1 sister-in-law Rita Ziegelbauer of West Bend; other relatives and friends.
In addition to his parents, he was preceded in death by his wife Virginia on December 6, 2000, his son Roger, and his brother Lester (Arline) Stern.
A Mass of Christian Burial will be held on Wednesday, August 23 at 2 p.m. at St. Mary's Immaculate Conception Catholic Church with Rev. Nathan Reesman presiding. Burial will be in St. Mary's Cemetery (new). The family will greet relatives and friends during a period of visitation at the church on Wednesday from 11 a.m. until 1:45 p.m.
Edward's family would like to extend a sincere Thank You to Richard and Marian Kreif and the staff of Cedar Hospice for their care and friendship.
The Schmidt Funeral Home of West Bend is serving the family.