Obit: Ella Iris (nee Clay), 92, of Slinger.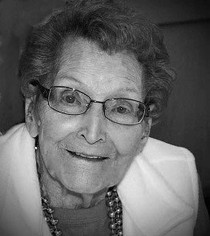 March 30, 2017 – Slinger, WI –  Ella Iris (nee Clay), age 92, passed away peacefully on Wednesday March 22, 2017 at Serenity Villa in Slinger.
She was born in Hollister, Wisconsin on August 29, 1924 to Leonard and Edith (nee Meeks) Clay.  She graduated from Hollister School with highest honors and was later one of those daring young women who stepped up for the war effort in the 1940s by going to Chicago to work in a defense plant, where she assembled the wiring in radios used in B29 airplanes.
She returned home after the war, married and raised five children. Ella went on to work as bookkeeper at Gateway Potato Corporation, a successful brokerage company she owned with her husband. She was an accomplished quilter and avid reader, but found her greatest joy in her family.
Ella is preceded in death by her parents, Leonard and Edith, her beloved husband James D. Iris, seven sisters, and two brothers. She is survived by her sister Alma (Herman) Albrecht, her brother Earl Clay (Debra), and by son Michael (Cindy); daughters Mary (Bruce) Raith; Celia Amerson; Rita (Paul) Leganski; and Jamie (Mark) Wojcik, and by grandchildren Carol (Chris) Grudzinski; Amy (Matt) Boschae; Samantha and Michele Iris; Jesse (Rachna) Amerson; Kevin (Honguna) Amerson; Neil and Tom Gorman, and Kaitlyn and Joseph Wojcik. She is also survived by eight great-grandchildren: Logan Boschae (Roechelle); Cody Grudzinski (Katelyn); Rohan, Sean, and Janaki Amerson; William and Alexander Amerson, and Natalie Iris, as well as by great-great-grandson Bensen Boschae.
She is further survived by nieces, nephews, other relatives and friends.
A private Graveside Service will take place per Ella's wishes.