Obit: Elveira Laura Emma Schmidt, 95, Hustisford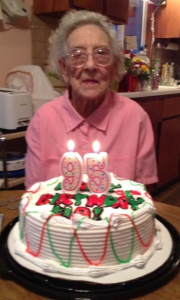 Elveira (Vera) Laura Emma Schmidt (nee Zirbel), age 95 years, of Hustisford, Wisconsin passed away March 21, 2016 at Aurora Grafton Hospital.  Vera was born in the town of Williamstown, Dodge County, WI on December 13, 1920 to Reinhard and Emma Zirbel (nee Zuehlke).  Vera, the third of eight children, grew up on farms in the Burnett and Horicon townships.
As a young adult, Vera worked as a housekeeper (nanny) and eventually met a suitor named Paul Schmidt.  The couple married on May 9, 1942, lived on the Lehman farm in the Neosho area and eventually moved to their own farm in Clyman several years later. They later started working at Prentice Wood Products in Woodland, WI and moved to Hustisford in 1965.  They both worked at Broan Manufacturing in Hartford, WI for 17 years before retiring and working part-time at Hustisford's Bethany Lutheran School for 13 years.
Vera enjoyed playing Sheepshead, watching the Game Show Network, and socializing with family and friends.  Vera's favorite catch phrase was "That's the way it goes!"
She is survived by her Sons, Wayne (Linda "Dolly") Schmidt of Hartford and Bob (Faye) Schmidt of Milwaukee; two Grandsons, Jason (Ellen) Schmidt of New York City and Justin (Holly Wells) Schmidt of Chicago; two Great-Granddaughters, Amelia and Vivian Schmidt of New York City; Sisters-in-law, Betty Schmidt, Neosho and Delores Schmidt, Arbor Vitae, nieces, nephews, and other relatives and friends further survive her.
Vera was preceded in death by her husband Paul (2004), her parents, one sister, Arline, and six brothers, Ervin, Norman, Marlen, Vilas, Donald, and Ronald.
Funeral visitation and services will be Saturday, March 26, 2016 at Bethany Lutheran Church, 269 North Lake Street, Hustisford, WI with Rev. Timothy Bauer officiating. Visitation will be from Noon– 2:00 pm with the funeral at 2:00 pm and interment at Hustisford Cemetery.