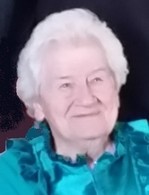 June 15, 2018 – Town of Polk, WI – Surrounded by her loving family, Ethel Weninger, 91, passed away peacefully and prayerfully at her residence on Sunday, June 10, 2018.
Ethelreda Amalia Spaeth was born on her grandfather's homestead in the town of Jackson on October 19, 1926. She was the third daughter of Lawrence & Margaret (Melder) Spaeth. Three years later, after adding a wonderful little sister for Ethel to play with, her family moved to a farm in the town of Polk and continued to grow. Over the years, Ethel was blessed with the addition of seven rambunctious, but ever-loving brothers. Ethel recalled how her mother used to pray that she'd give birth to boys so they'd have some extra help on the farm…but then they just kept coming! Her brothers often called her "Schimmel" because of the light-colored locks she had as a girl.
Ethel attended Holy Angel's Catholic School in West Bend until she made her First Holy Communion in the second grade. She completed the rest of her formal education at Mayfield School #9 in the Town of Polk. The Mayfield School was a one-room schoolhouse less than 1/8 mile down the road from the family farm. Ethel did not attend high school but learned a lot about life while living on the farm with her parents and siblings.
Following her mother's amazing example, Ethel gave selflessly. She learned how to manage her resources and raise a large family with lots of love and little money.
After school, Ethel gained employment and some wonderful friendships at the Jackson Canning Company and, later, Amity Leather Products in West Bend. She and her co-workers jokingly referred to themselves as "The Amity Bags." One day, Margaret Weninger mentioned that her brother, Joe, was home from his service in the Army. Upon hearing this, Eleanore Strupp exclaimed, "Ethel, there's the guy for you!" What a prophecy that turned out to be!
Ethel married Joseph Weninger on July 24, 1948, at Holy Angels Catholic Church in West Bend. When she said, "I DO" to Joe, she said "I DON'T" to her outside employment and resigned from Amity to begin her life adventure as a devoted wife and stay-at-home mom. These new roles suited her well, and she excelled at them both.
Throughout her life, Ethel lived within a mile of her childhood home in the town of Polk. She and Joseph initially purchased a lot that bordered the northeast corner of her father's farm. The newlyweds stayed with her parents for the first few months while a house was relocated to their new lot. Joseph completed the remodeling after they moved in, and Ethel would often gaze at the handiwork of her husband's cabinetry before she went to bed at night. She simply adored her cozy little kitchen and felt like the richest woman in the world.
Over the next 12 years, the couple learned the meaning of togetherness as they raised nine children in the tiny two-bedroom home. In 1960, they purchased the farm a half mile due north. Ethel's father and brothers may have worked the farmland, but once again she and her husband made the house a home. This farmhouse was much larger than their first home, but it was soon brimming with love as well! They added three more kids to their clan to make an even dozen: Six of one and half dozen of another.
The farm was often the site for family gatherings and friendly parties. Even during remodeling projects, card games were often hosted in the kitchen or dining room. Countless softball games were played out in the field. Late night volleyball games down in the yard. Picnics in the woods. Toboggan rides down the back hills. From children's birthdays, to high school parties, college fraternity initiations, wedding receptions, and anniversary celebrations, Ethel patiently endured and graciously entertained. Throughout her life, Ethel continued to faithfully acknowledge the birthdays and wedding anniversaries of her children, grandchildren, and great-grandchildren. And every one of them received a card with "a little something" at Christmas time as well.
Ethel was an excellent cook and baker. Her children often came home from school to find a table full of donuts or apple turnovers and a kitchen filled with wonderful aromas. She provided countless cream puffs, cupcakes, and cookies for birthday treats at school. Lunches were made with sandwiches neatly wrapped in cellophane…and she always seemed to remember each child's favorite type. Each morning, Dad was sent off to work with a kiss (with him leaning down, and Mom on her tiptoes so she could reach!) and her children rarely left the house without Mom sending their guardian angels along out with them.
Even though her days were busily filled with child rearing, sewing, gardening, canning, and chaperoning school field trips, Ethel always managed to have delicious home cooked dinners well coordinated and ready when her hungry husband and family came home at the end of the day. She had a drawer-full of recipes in her kitchen, and even more stored away in her mind.
Ethel had an incredible faith which she demonstrated daily. She spent much time in prayer. During the parish's early years, Ethel was a member of St. Frances Cabrini, where she was active in Christian Mothers and the Samaritan Guild. She was especially involved with Little Lourdes Day services. In 1975, the family switched to St. Peter's Parish in Slinger where she and her husband often gave others a ride to Mass and were involved with taking Communion to the homebound. After retirement, she and Joe enjoyed playing cards with the senior group in Clare Hall. She was always up for challenging games of Rummikubes with her kids, and developed a love/hate relationship with the Sudoku puzzles in the daily paper.
Ethel LOVED flowers. It would be hard to determine her favorite because she simply seemed to love them all! She always appreciated the thought when somebody brought her a bouquet, but she hated to see the flowers wilt and die after a while. Ethel was definitely gifted with a green thumb. She raised some beautiful gardens in her life and could spend hours daydreaming over seed catalogs when they arrived in late winter/early spring. One of Ethel's biggest regrets in her later years was that she was no longer able to get out into her gardens and flowerbeds…but she'd still go out in her wheel chair at times and use her cane to point out what needed to be done!
Most of all, Ethel loved spending time with her family and friends. Visitors were always welcome, especially in her later years when it became increasingly difficult for her to get out. Along with her family, Ethel wanted to express a special thank you to Lisa Schmitt, Monica Fieweger, Mary Catarozzoli, Gwynn (Marilyn) Theusch, "favorite son" Dennis Beder, Mary Beder, Bob and Jo-An Schneider, and all the other special people who took time out of their busy schedules to come see her on a fairly regular basis.
Ethel is survived by her children, Jerome (Betty) of St. Croix, VI, Joanne (Mike) Schmitz of Rolla, MO., Donna Patik of De Forest, Bruce (Carolyn) of Kewaskum, Ronald of Slinger, Nancy (Tom) O'Neal of Indianapolis, IN., Karen (Daniel) Vogt of Jackson, Lois (Larry) Gundrum of Slinger, Tom (Yvonne) of Jackson, Elizabeth (John) Maczuzak of Ripon, and Brian of Jackson. Grandchildren, Pamela (Kelvin) Dixon, Rebecca (Ted) Diez, Matthew, Jason (Rosy), Jeremy, Joshua (Ireael), Nathanael (Younghee), Zachary, and David (Krystal) Schmitz, Brenda Patik, Leah (Nathan) Miller and Andrew Patik, Christian (special friend Kayli), Justin (Sara) Weninger and Michelle (Mark) Uniewski, Allison (Kevin) Senninger, Jesse (Amy) Vogt, Megan (Juba) Borgohain, Kelly (Mike) Jenich, Laura Vogt, Noele (Ivan) Orellana, and Dani (Tory) Belich, Rachel (Devin Blake), Holly (Marcus) Madson, Eli, Jacob, Savannah and Angelina Maczuzak; Great-grandchildren, Dante and Jewel Dixon, Alonnah (Joshua) Thomson, and Alyssah Diez, James Schmitz, Shekinah, Joseph, Andrew, Noah John, Titus, and Hosanna Schmitz, Juan Schmitz, Ethan, Hannah, Jaina, and Malachi Schmitz, Jaxson and Harrison Weninger, McKenzie Uniewski, Kyle and Elly Senninger, Everett Vogt, Ari, Ajai, and Iris Borgohain, Greta, Emile, and Denver Jenich.
Ethel is further survived by her sisters, Mildred Theisen and Irene Schellinger, brothers, Joseph (Betty) Spaeth, Charles (Barbara) Spaeth, Edward (Patty) Spaeth, Lawrence (Alice) Spaeth, and Daniel (Mary) Spaeth, Sisters-in-law, Donna Spaeth and Margaret (Franklin) Bales. She is further survived by many loving nieces, nephews, other relatives and friends.
Ethel was preceded in death by her parents; husband, Joseph; father and mother-in-law, Andrew and Mary "Mamie" Weninger; son, Alan; son-in-law, Mike Patik; granddaughter, Erin O'Neal; sister, Rita (Oscar) Beder; brothers, David and Michael Spaeth; brothers-in-law, Louis Theisen, Fritz Schellinger, and Andrew Weninger Jr.; and sister-in-law, Marian (Denis) Vogt.A Mass of Christian burial for Ethel will be at 10:30 a.m. Friday, June 22, 2018 at St. Peter's Catholic Church (200 E. Washington St., Slinger) with the Rev. Richard Stoffel presiding. Family and friends may visit from 4:00 pm until 7:00pm on Thursday, June 21, 2018 at the Phillip Funeral Home (1420 West Paradise Dr, West Bend) and at St. Peter's Catholic Church, (200 E. Washington St., Slinger) on Friday, June 22, from 9:00 am until 10:15am. Burial will be at Old St. Peter's Catholic Cemetery.
In lieu of flowers, memorials to Heart of The Nation TV Masses or the Threshold are appreciated.