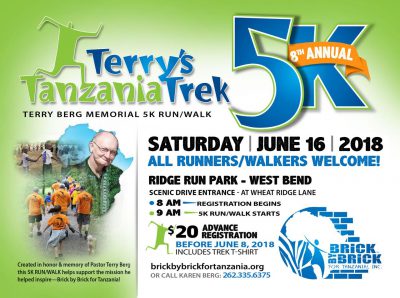 June 15, 2018 – West Bend, WI –  Brick by Brick for Tanzania will be sponsoring its 8th annual run on Saturday, June 16 at Ridge Run Park in West Bend.
Brick by Brick builds pre-schools in Tanzania in the poorest communities.
In the past eight years eight schools have built 8 schools in the past 8 years. One school was built in memory of Rev. Terry Berg who was a pastor at Trinity Lutheran Church from 1993 through 2006.
Pastor Berg died in November 2010 and Terry's Tanzania Trek has been held since June 2011.
This is the organizations only fund raiser and each year about $10,000 is raised.
To sign up contact Karen Berg at 262-335-6375 or click HERE for more details.