Obit: Florence C. (nee Wagner) Meyer Lehmann of Cedar Community died on her 98th birthday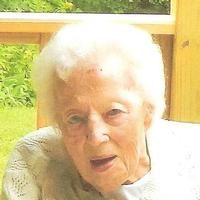 May 31, 2017 – West Bend, WI – Florence C. (nee Wagner) Meyer Lehmann entered Heaven's gates and eternal life on her 98th birthday, May 27, 2017 at Cedar Communities.
The middle child of John and Anna (Schield) Wagner, Florence was born on the Wagner homestead on May 27, 1919. She was raised on the farm along with her older brother, Paul, and younger sister, Mary Ann.
Florence began her education at an early age at Woodside School, a one room school house. After a few years, she then attended Holy Angels School.   She graduated, at 16, from West Bend High School, Class of 1935.
After graduation, Florence found employment at the West Bend Company, where she would meet her future husband, Walter "Sonny" Meyer. Undeterred by his comment that he thought she was too young for him, her beautiful smile and pretty blue eyes won his heart. They married August 27, 1941.
Florence and Sonny began their married life in Barton and in a few years, purchased and remodeled a cottage that became their home on Wallace Lake. Here, they raised their four children, Ann, Walter Jr., John and Mary. They enjoyed living on the lake, especially because all the lake activities kept their kids busy and mostly out of trouble.   Sonny passed away in April, 1978.
During the war, Florence had worked at Amity. After having her children, Florence returned to work at the West Bend Co. in 1952, first in the factory and then working in the office until her retirement in 1981. It was at one of the West Bend Co.'s 25 Year Club dinners, that Florence got reacquainted with one of her former high school classmates, Bill Lehmann, who had also lost his spouse. They married June 19, 1982. After her marriage to Bill, and living 40 years at Wallace Lake, she then moved to Bill's retirement home on Squirrel Lake, near Minocqua.
Up north, she again got to enjoy lake living. They would take the pontoon out on the lake.   They'd watch the loons, ducks, eagles, deer and bear. Before supper, they enjoyed a game of cribbage and a high ball.   Florence and Bill enjoyed having visitors and, of course, those grocery trips into town that often included a trip to the casino.   In 1998, they returned to West Bend to be closer to their families. Bill passed away in December, 2008.
Growing up, she enjoyed playing baseball and socializing with her cousins. Florence and Sonny would enjoy going to dances at Cedar Lake Park and the Eagles Club. Family was very important to Florence. Florence enjoyed celebrating her families' special events: holidays, graduations, weddings, births; class reunions and family reunions. Besides traveling in the United States, she also traveled to Canada and Mexico. Florence and Sonny enjoyed many visits to the Barcom farm in Indiana. Florence and Bill would visit their snowbird friends in Arizona and Florida.   In 1984, they traveled to Hawaii. Florence especially enjoyed two very special trips with her son, John, and wife, Jean. She accompanied them on a trip to Japan. Florence was very impressed with the respect the Japanese people showed to her and the Japanese were impressed that she still had her own teeth. When John and Jean went on a trip to Germany and Austria, Florence and Bill joined them.
Florence loved to watch Nascar; the Brewers; the Bucks; Lawrence Welk; Wheel of Fortune and other game shows. She enjoyed her flower and vegetable gardens. Florence baked wonderful desserts and was a good cook, except for that one jello.
Florence was predeceased by her parents; her husbands, Sonny Meyer and Bill Lehmann; her sons, Walter Jr. and John; and her brother, Paul and wife, Marcella, Wagner.
Florence is survived by her daughters, Ann Stoffel, and Mary (Ronald) Krell; daughter-in-law, Jean (James) Gorman; step-sons, William (Clare) Lehmann Jr. and Dale (Marlene) Lehmann; her sister, Mary Ann (Lawrence) Frase; grandchildren and great grandchildren; step-grandchildren and great step-grandchildren; and was beloved Aunt Florence to many nieces and nephews.
A Mass of Christian Burial will be held Saturday, June 3, 2017 at 12:00 noon at Immaculate Conception St. Mary's Catholic Church with Rev. Nathan Reesman presiding. Burial will follow in St. Mary's New Cemetery. The family will greet relatives and friends on Saturday, at the church only from 10:00 a.m. until 11:45 a.m. Memorials to the charity of the donor's choice or to be determined by the family.
A very special Thank You to all the staff at the Cedar Communities, who gave our mother extraordinary tender and loving care in her years as a resident; the hospice staff for the extra special care in her last days; and especially to her physician, Dr. Renee Jahnke.
Mom, you were the heart of our family, loving, thoughtful, kind, caring and wise. You will live on in our hearts and we will never forget you.
The Schmidt Funeral Home in West Bend is serving the family.