Obit: George F. Hanrahan, 81, of Kewaskum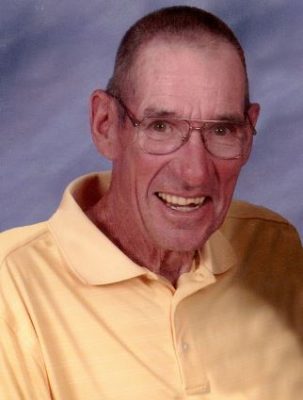 Oct. 11, 2017 – Kewaskum, WI – George F. Hanrahan, 81, of Kewaskum passed away peacefully on Tuesday, Oct. 10, 2017, at Kettle Moraine Gardens in Kewaskum.
He was born on December 29, 1935, the son of the late David and Mae (Foy) Hanrahan, and on November 26, 1960, he was united in marriage to Mary Backhaus at St. Bridget's Catholic Church in the town of Wayne.
George graduated from St. Bridget's Catholic School and Kewaskum High School. He was an active member of St. Bridget's Catholic Church and Holy Trinity Catholic Church serving as usher and parish board member. George was a member of the Knights of Columbus Father Casper Rehrl Council 1964 West Bend, Our Lady of Holy Hill Assembly 1677.
George farmed the family farm his entire life until retirement. In his early years, he worked at Bruhn and Backhaus and also at Steve and Mary Rahn's. He proudly served in the Army National Guard. He was a founding member and past president of the Kewaskum Sno-Chiefs Snowmobile Club and a member of the Kettle Moraine Sportsman's Club. In retirement, he enjoyed working with his buddies at Auburn Bluffs Golf Course. He was a devoted husband and father who loved family, farming and Wisconsin sports!  George will fondly be remembered for his sense of humor and will be deeply missed by his wife, family and by all who knew him.
Survivors include his wife of 57 years, Mary; children, Patrick of Tucson, AZ, Joni (Todd DeRuyter) of Berlin, WI, Matthew (Laurie Denn) of Edina, MN, Jim (Sherri) of Green Bay, WI, and Brian of Edina, MN; eight grandchildren, Shannon, Lucas, Tim, Catee, Liam, Claire, Joshua and Evan; sister, Marie Wietor; sister-in-law, Betty Backhaus, many fun nieces, nephews, other relatives and friends.
George was preceded in death by his brother, Jerome; sister, Patricia Herriges; brothers-in-law, Cyril Wietor, Raynor Herriges, Glenway Backhaus and Loran Backhaus; sisters-in-law, Myrtle Hanrahan and Marilyn Backhaus; and a nephew, Daniel Wietor.
A Mass of Christian Burial for George will be held at 11:00 a.m. on Saturday, October 28, 2017 at Holy Trinity Catholic Church, 331 Main Street, in Kewaskum with Father Edwin Kornath officiating. Relatives and friends may call on Saturday at the church from 9:00 a.m. until the 11:00 a.m. Mass.
In lieu of flowers, memorials to Alzheimer's Association or Holy Trinity are appreciated.
George's family would like to extend their heartfelt appreciation to the entire staff at Kettle Moraine Gardens and Serenity Hospice for the wonderful care of their husband/dad.
The Myrhum Patten Miller & Kietzer Funeral Homes have been entrusted with George's arrangements.5