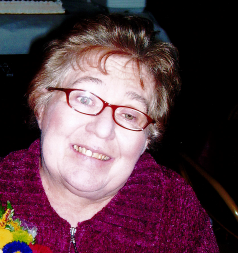 Ann Marie Gundrum (nee Graff) age 64 of the Town of Addison, WI passed away peacefully on Saturday, January 2, 2016.
She was born on March 10, 1951 to Casper and Frances (nee Peters) Graff. Ann grew up on a farm with her family and then she met a farmer of her own. Donald & Ann were united in marriage on November 7, 1981 at St. Anthony Catholic Church.
She worked at Regal Ware in Kewaskum for 12 years.  Together, Don and Ann ran their family farm & raised two wonderful daughters Julie & Elaine. Ann was a loving wife and mother. She enjoyed making lunches for her husband during busy field work days, gardening, feeding the newborn calves, listening to the Brewers games on the radio, and cooking and baking. Her smile was the biggest when she spent time with her family and her grandchildren Harrison & Brooklyn Ann. She loved snuggling with them and giving them kisses.
She is survived by her loving and devoted husband Donald; daughters Julie (Matthew) Kling of Hartford, Elaine (Christian) Langreck of Hartford, grandchildren Harrison Langreck and Brooklyn Kling.  Also, survived by her sister Rita (Steve) Sawyer, brother James (Ruth) Graff, mother in-law Agnes Gundrum, sister in-law Rita (Jerry) Bingen, and brother in-law Allen (Lori) Gundrum.  She is further survived by nieces, nephews, other relatives and friends.
Ann is preceded in death by her parents, and father in-law Mathias Gundrum. brother John Graff, brother in-law Richard Gundrum.
Mass of Christian Burial for Ann will be held on Thursday, January 7, 2016 at 10:30 a.m. at Resurrection Catholic Church in Allenton with Father Rick Stoffel officiating.  Family will greet relatives and friends at Shimon Funeral Home on Wednesday, January 6, 2016 from 4:00p.m.-7:00 p.m. Additional visitation at the church on Thursday from 9:30-10:30a.m.
Interment in Sacred Heart Cemetery Allenton, Wisconsin.
Special thanks for the unconditional support of Ann's dear sister Rita and cousin JoAnn who spent time cooking, visiting, and laughing with her. Dear thanks to our family, friends and neighbors for their care and prayers over the years.  Also, George and Bonnie Wiedmeyer, Allenton Lions Club and the staff at Fresenius medical care in West Bend for the care given and their support through the years. Our love travels with you and your grandbabies now have a guardian angel watching over them. We will cherish your sense of humor, smile, tender hugs, and love you shared.
In Lieu of flowers memorials to Allenton Lions and Resurrection Church are appreciated.