Obit: Harold Edwin Roecker, 86, of West Bend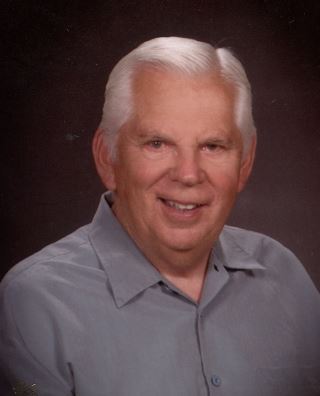 Oct. 9, 2017 – Kewaskum, WI – Harold "Harry" Roecker, 86 of West Bend, lost his battle with Parkinson's on Sunday, October 8, 2017 at The Pavilion at Glacier Valley, Slinger.
He was born April 21, 1931 on his parent's farm in the Town of Wayne, the fourth son of Edwin and Cora (nee Bauer) Roecker. He was baptized on May 31, 1931 at the Reformed Church in West Bend and confirmed on February 24, 1946 at Immanuel Evangelical and Reformed Church in West Bend.
At an early age Harold learned the responsibilities of farming.  Besides the normal chores of cleaning out the barn, feeding and bedding the cows, Harold at the age of eight walked the bull to the neighbor's farm on occasion and drove his father's truck to nearby Kohlsville to deliver milk to the cheese factory (his father had put extensions on the pedals.)  After the cans were emptied they were filled with whey.  Back home Harold poured out the whey for the pigs.  Harold said he liked being "brought up" on the farm but looked forward to moving to the big city of West Bend so he could make more friends and have more activities to do.
Harold started playing drums at the age of eight in his brother's band, The Kohlsville Gutter Cleaners.  His family sold the farm after fourth grade and moved to West Bend where Harold continued to play drums at McLane School and Badger High School. Over the years, Harold played drums on weekends, first with his own band, Flip and Harry, and then with Justy and The Keybenders and Bernie and the Jolly Lads, for a total of over 50 years.  Harold loved music and was very talented at playing the piano by ear.
After High School Harold enlisted in the Army with his best friend Roger Strack who later became his brother-in-law. They served from February 2, 1951 until January 10, 1953 during the Korean War, seeing tours of duty in Greenland and France.
Harold met the love of his life, Carol Strack when he was in 5th grade.  They married on October 2, 1954 at St. John's Lutheran Church West Bend.  They are the  parents of four children, Susan (Peter) Schneider, Sandra Roecker, Tim Roecker, Tammy (Chris Pasciuti) Roecker; two grandchildren, Heather Murphy and Toni Pasciuti; two step grandchildren, Justin (Katie) Schneider and Ben (Amy) Schneider; and 3 step great grandchildren, Cydnee, Eyan and Athen Schneider.
Harold and Carol enjoyed traveling throughout the United States, Canada, and Mexico with their children, many times with their Tow-Low camper. Eventually, Harold and Carol traveled to all 50 states, Europe, Australia, New Zealand, and the U.K.
Harold worked for Tri-Par Oil Co. for 34 years, first delivering fuel oil to homes and later as a salesman in their store in Cedarburg selling Simplicity lawn and garden equipment.  Later he worked for E. H. Wolf & Co. as an oil salesman for 6 years, retiring in 1995.  Never being one to sit around, Harold worked part time. In 1999 he started working part time for E. S. Service driving a courier truck, delivering products all over Wisconsin and Illinois for 10 years.
Harold was a member of the Barton VFW and was a past Commander. He also was a member of the Allenton Lions Club, was a past president and received the  Melvin Jones Fellow award.  In addition, he was a member of the KettleMoraine Klassic Kar Klub.  He was a life time member of all three clubs.
Harold enjoyed fishing, especially in Canada, hunting deer on his brother  Ray's farm and turkey in Wisconsin; also trips to Nebraska for pheasant and out west for deer and antelope.
He is survived by his loving wife of 63 years, children, grandchildren and great grandchildren, who were mentioned earlier.  Also surviving are his brother Raymond, brother-in-law Roger Strack (Cordell) nieces, nephews and other relatives and friends.
Harold is preceded in death by his parents, brothers Ludwig (Bernetta), Roland (Lucille) and sister-in-law Lucille Roecker.
A funeral service for Harold will be at 12:00 Noon on Saturday, Oct. 14, 2017 at St. John's Lutheran Church, 809 S. 6th Ave., West Bend.  Visitation will be at the church from 10:00 a.m. until time of service.  Rev. Dave Kellerman will officiate. Graveside services will follow with military honors at Washington County Memorial Park.  Memorials are appreciated to the Wisconsin Parkinson's Association or St. John's Evangelical Lutheran Church.
The family would like to extend a special thank you to the staff at The Pavilion at Glacier Valley and to Seasons Hospice for all the love and care they gave to Harold.