Obit: Harold Strohmeyer, 82, St. Michaels. Harold was an expert gardener, selling at the local farmers' markets from 1979 to his last market October 2016.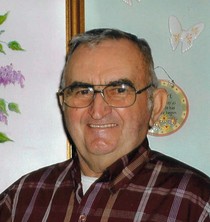 April 3, 2017 – St. Michaels, WI – Harold Frank Strohmeyer, age 82, of St. Michaels, passed away unexpectedly on Saturday, April 1, 2017.  He was born on April 2, 1934 in the Town of Wayne to George and Jennie (nee Hoffman). He was married to Betty (nee Christensen) on October 7, 1961.
Harold was a farmer in his early years raising beef cattle, pigs and chickens and also worked for Pick's making brake parts. He also enjoyed raccoon hunting in his younger years with his faithful dog, Buck.
He retired from Regal Ware in 1999, working there for over 30 years. He also enjoyed cutting down trees and splitting wood for winter heating. Harold enjoyed gardening with his wife, children, grandchildren and many helpers along the way and having them help sell his delicious produce at the West Bend Farmers' market every Saturday from April to October for many years.
Harold was an expert gardener, selling at the local farmers markets from 1979 to his last market October 2016.  Harold was known by many people to just strike up a conversation with you, giving his advice usually about growing the best vegetables. He also enjoyed cooking with lots of flavor, looking out his window watching the deer and cranes and filling the bird feeders. Harold was a big teaser, knew how to have a good time and had an infectious laugh.
Harold is survived by his loving wife, Betty; children James, Jennifer, Steve (Jenny); grandchildren Joshua and Jacob; siblings Anton (special friend Marguerita), Loretta (Bill) Knepprath, Marion Knepprath; sisters-in-law Judy (Hank) Gloede, Barb (Erhardt) Jobs. He is further survived by nieces, nephews, other relatives and friends.  Harold is preceded in death by his daughter Deborah, parents, siblings Raymond, Edward, infant girl, Catherine, Louise, brothers-in-law Ira and Edward.
A Funeral Service will be at 6 p.m. on Friday, April 7, 2017 at the Phillip Funeral Home Chapel (1420 W. Paradise Dr. West Bend, WI 53095). Visitation will be at the funeral home from 3 p.m. until the time of the service at 6 p.m.  Interment at Holy Trinity Cemetery in Kewaskum.
A special thank you to Dr. Gary Herdrich for the amazing care provided.  The emergency team from Kewaskum, the Emergency Room, ICU staff at St. Joseph's Hospital and the Washington County Sheriff's Department.