Obit: Isabelle Muckerheide, 98, Kewaskum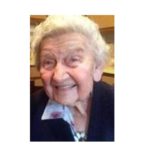 Isabelle Muckerheide (nee Yeska), born July 6, 1918 in Neshkoro, WI reunited with her beloved husband Aloysius on September 20, 2016. Survived by her sister Dorothy (the late Anthony) Kerhin. Preceded in death by her siblings Edward (the late Mardell); Helen (the late Clifford) Good; Walter (the late Millie); and Lucy (the late Henry) Kurz. Also survived by many nieces/nephews, grandnieces/nephews, other relatives, neighbors and friends.
Isabelle was rightly proud of her 98 years and she savored each day of her very active life right up to the end. She was a life-long baker and cook; the larger the group, the better. (Did you know she cooked for Spencer Tracy and the original Mr. Selfridge?) Isabelle was a long-time member of Holy Trinity Catholic Church, the Kewaskum Historical Society, and the American Legion Auxiliary. She filled her days with auctions, book and card clubs, farmer's markets, bingo, knitting dishcloths, and writing poems. No family function was complete without one of Isy's literary creations. Although she truly missed her Kewaskum neighbors and friends, she gracefully made the transition to her sister Dorothy's home in West Allis at the age of 96. There she relished the endless round of birthdays, baby/wedding showers and fish fries. It didn't hurt that she was closer to the Potawatomi Casino! Known for wearing her colorful brooches, Isabelle will be even better remembered for her gracious and grateful spirit. As someone recently said, "She was the kindest person I ever met."
A Mass of Christian Burial for Isabelle will be celebrated at 11:30 a.m. on Tuesday, September 27, 2016 at Holy Trinity Catholic Church, 331 Main Street, in Kewaskum. Rev. Edwin Kornath will officiate. Burial will follow in the parish cemetery.
Isabelle's family will greet relatives and friends at the church on Tuesday from 9:30 a.m. until the time of Mass.
In lieu of flowers, memorials suggested by Isabelle to Holy Trinity Catholic Church or St. Lawrence Seminary, Mt. Calvary, WI.