Obit: Jeanette Mary Mack, 92, Hartford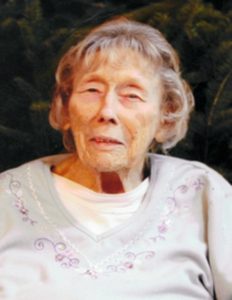 Jeanette Mary Mack (nee Tennies), age 92, passed away on Sunday, September 4, 2016.  She left this world very peacefully, surrounded by loved ones.  She was born to Henry and Clara (nee Hesprich) Tennies on August 9, 1924.  She married William Mack on April 10, 1948, and together they raised a large family.
It is with heavy hearts the family is saying goodbye to their beloved mother and grandmother. With 114 direct descendants, she is the foundation and cornerstone of an incredibly close and loving family.  If you knew Jeanette, you were considered an extension of her family.  An excellent cook & baker, she will be remembered as the "Cookie Grandma" as she always had a sweet treat for anyone that came to visit.
Jeanette is survived by her children, Diane Jean of California, James Mack of Arizona, Charles (Marjorie) Mack of West Bend, Mary (Roger) Hopfensperger of Oak Creek,  Howard (Sandra) Mack of Newburg, Kathleen Ward of Kentucky, Janeen (Dean) Oswald of Hartford & Christine (David) Quandt of Lomira; thirty-one grandchildren; fifty-six great-grandchildren; twelve great-great-grandchildren; sister, Rita (Leroy) Kannenberg of Jackson; sister-in-law, Doris Tennies of Slinger; brothers-in-law, Jerry Mack of Florida & George Bruette of Indiana; nieces, nephews, and other relatives & friends.
She is preceded in death by her husband William, daughter Barbara, sons-in-law, Kenneth Hopfensperger & Brad Jean; grandchildren, Deena, Joseph & Holly; great-grandchildren, Joey, Xavier & Carolyn; great-great-grandchild, Kenneth; brother, Henry Tennis; brother-in-law, John Mack; sisters-in-law, Judy Mack, Martha Bruette & Jean Mack.
A Mass of Christian Burial will be held at 11:00AM on Saturday, September 10, 2016 at St. Kilian Catholic Church (264 W State St., Hartford, WI) with Father David La Plante presiding. Visitation will be at the church from 9:00-10:45AM.  There will be an additional time of sharing later Saturday afternoon at The Phillip Funeral Home Chapel (1420 W. Paradise Dr., West Bend, WI) from 3:00-5:00PM. Please join the family at either or both.