Obit: Gerald C. "Jerry" Stoffel, 91, Kewaskum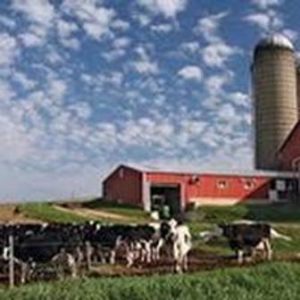 Gerald C. "Jerry" Stoffel, 91, of Kewaskum entered eternal life on Monday, September 5, 2016, at the Samaritan Health Center in West Bend.
Jerry was born on August 24, 1925, in Kewaskum, the son of the late Nicholas and Odelia (Marx) Stoffel and on July 5, 1948, he was united in marriage to Ruth Frances Weyres at St. Mary's Immaculate Conception Church in Barton.  Ruth preceded Jerry in death on October 4, 1977. On March 17, 1979, Jerry was united in marriage to Martha "Marty" Cooper at Holy Trinity Catholic Church in Kewaskum.  Marty preceded Jerry in death on November 2, 2006.
Jerry was a humble man who intertwined his passion for family, farming and God throughout his life.  He worked alongside his father, brother, children and nephews on the family farm.  He enjoyed spending time gardening, traveling, going on picnics, collecting farm primitives and visiting with his grandchildren/great-grandchildren.  Jerry loved to give tours of the family farm to potential in-laws and visitors, always ending with a dish of ice cream.
Jerry was a lifelong member at Holy Trinity Catholic in Kewaskum.  He was also part of the Knights of Columbus, Holy Name Society of Holy Trinity and served on many Agricultural Boards over his years of farming.
Those Jerry leaves behind to cherish his memory include 11 children, Tom (Kate) Stoffel of Tucson, AZ, Dan (Joan) Stoffel of Kewaskum, Lee (Tina Thompson) Stoffel of Kewaskum, Ann (Rick) Pfeil of Las Vegas, NV, Ned (Carol) Stoffel of Red Bank, NJ, Tim (Nancy) Stoffel of Kewaskum, Amy (Lloyd) Pamperin of Allenton, Pat (Karen) Stoffel of West Bend, Nicole (Jene) Atkinson of Madison, Jacky (Jeff) Geidel of Kewaskum and Shelly (Brian) Taylor of Kewaskum; 20 grandchildren; 18 great-grandchildren; a brother, Alan Stoffel of Kewaskum; two sisters, Dolores (Ken) Vernon of Tennessee and Harriet Stellpflug of New Holstein; two sisters-law, Lucille (Jack) Schofield of St. Petersburg, FL and Barbara Weyres of Vero Beach, FL, many nieces, nephews, other relatives and friends.
In addition to his parents and wives, Jerry was preceded in death by his parents-in-law, Thomas and Ida Weyres; two sisters-in-law, Peggy Stoffel and Virginia Weyres and four brothers-in-laws, Robert DuPont, John Stellpflug, Robert Weyres and Walter Weyres.
A Mass of Christian Burial for Jerry will be held on Monday, September 12, 2016, at 7:00 p.m. at Holy Trinity Catholic Church, 331 Main St., in Kewaskum.  Rev. Edwin Kornath will officiate and burial will follow on Tuesday at 10:00 a.m. in the parish cemetery.
The Stoffel family will greet relatives and friends at the church on Monday from 4:00 p.m. until the time of Mass.
The Stoffel family would like to extend their heartfelt appreciation to the Staff at Samaritan Health Center for the wonderful care Jerry received.