Remembering Jeffrey Steven Klotz, 61, of Kewaskum – a collection of thoughts and tributes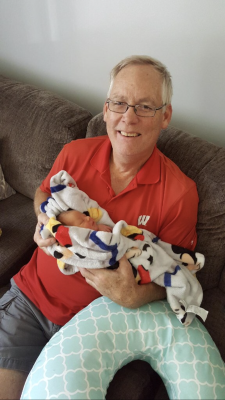 Oct. 11, 2018 – Kewaskum, WI – Funeral services will be held this afternoon for Jeffrey Steven Klotz who was called to be with the Lord and his older brother, Daniel, on Oct. 5, 2018 at age 61.
Since the news broke about Jeff's death many have written memories and tributes. A collection of thoughts and comments are below:
Jenny Kruse-Zaskowski – Our thoughts and prayers to Jeff's family. As a very frequent shopper he is a testimonial to true leadership. He was always working side by side with all of his youth employees. He instilled great work ethic in his entire staff and showed customer and community service like no other. What a loss to our community.
Valery Brussat A great loss to our community. Sending prayers to his family. 🙏
DEBRA JURCEK What a great loss and shock. Just recently I asked him to stock something for me and a week or so later it was at the store. he really cared for his customers. Prayers go out to his family.
Anna Marie – My first summer job. I remember for lunch he'd always ask me to make him a hot ham sandwich on a Kaiser roll with plenty of horseradish sauce. He was a good man to work for and always with a smile on his face.
Tom Jensen –He will be terribly missed. Jeff was a natural leader who taught by doing and not by intimidation. From him, I learned to importance of hard work, friendliness, and never giving up until the job was done. These examples were important for this snot-nosed kid in 1980 at the old Red Owl on Washington Street. God Bless you Jeff.
Jenny Schulteis – He was absolutely a quiet community leader. He helped D11SC, Inc. With our Thanksgiving and Christmas meal initiatives to provide meals for local families in need. He was happy to so this with a joyful heart.
Larry Last–  I was shocked. Jeff as so many say will be missed. A pillar in the community, always supporting events and teams and more. Gave so many jobs to teens. My most favorite grocer ever. Always ready to great customers with that kind and caring spirit. You have been a great example to me and so so many more. Prayers to all your loved ones Sir. Rest in Peace and we all shall meet again on the other side.
Josh Wiedmeyer – He is going to be truly missed. My daughters and I shop every Saturday morning at the Pig. Jeff always said hi and would go out his way to help. How many grocery store owners today are still on the floor stocking, shelf facing or just being completely approachable? He was one of the very last of those guys and the very reason I would shop a grocery store. He was awesome!
Mark Hoefert – I remember when Jeff started working at the Red Owl store in West Bend, as the Assistant Manager to Gregg Benidt who had purchased the store. The Benidt family owned numerous grocery stores in Waukesha at the time – as I recall, Jeff had worked for them before they bought the West Bend store. Gregg himself died at a young age in a tragic car accident near his home on east Paradise Road in the Town of Trenton. I used to tell Jeff that someday he would own the Red Owl store and he would laugh at me. I was 1/2 right – he may not have become the owner of the Red Owl store, but he did become owner of his own Piggly Wiggly. I don't think I ever knew a more positive, upbeat guy. Always smiling.
Lisa Lange I can't wrap my head around this news. I just saw you last week. Jeff I have known you for many years. You always had a smile on your face when I ran into you at the Pig. I watched your kids and even worked for you and Carole in High School. Sending many thoughts and prayers. R.I.P Jeff.
Click HERE for more thoughts and prayers.
A beloved son, fiance, brother, father, grandfather, partner, uncle, boss, friend and coach, Jeff is remembered as one of the hardest working men God ever created. A teacher willing to teach, a father willing to parent, a friend willing to listen and a coach willing to mentor. Jeff is loved and missed by his immediate family, the Piggly Wiggly Family, and the community.
Jeff never met a golf course he wouldn't play, a mountain he wouldn't hike, or a person he wouldn't help. A masterful and hilarious storyteller. A good man, a great man, and a great loss.
Born on June 30, 1957 in Waukesha, WI to loving parents. After his studies in Waukesha, he went on to become a grocer, a business owner, and a boss. It was in this role that he supported the community, through charitable giving. He found support and love in his fiancee Cathy, with whom he shared his life. He's also loved and supported by his three adult children and their mother, Carole Hohl, as well as the rest of his family: his mother, brother, sister, and father. As a golf coach, he gave of his time and talents. As a member of St. John's Church, he received the word of the Lord.
Jeff is survived by his parents Carol and Richard Thompson, Edward and Patricia Klotz, brother Michael Klotz and his daughter Marci and her family, sister Jeannie (Ken) Ristau and her children Nick and Livvi, and their families, and his niece Tracey Marek and her family. Fiancee Cathy Kunes and her children, Nathan (Tanya) Esser, Benjamin Esser, Ayla Kunes and her fiance Brandon, and Cathy's grandchildren Thea and Layla. His children, son Michael (Rhiannon) Klotz and their children Jordan, Jayden, and Mason, daughter Emily (Dan) Smith and their children Lily and Charlotte, and son Paul (Candace) Klotz and their children Trystan and Barrett. Also mourning are many other loving relatives and close friends. Preceded in death by his brother, Daniel Marek.
A Funeral Service for Jeff will be held at 6 p.m. on Thursday, Oct. 11, 2018 at St. John's Lutheran Church (809 S. 6th Ave., West Bend) with Pastor Jeff Dorth presiding. Visitation will be at the church on Thursday, Oct. 11 from 3 pm until time of service (6:00 pm).
The family would like to thank our friends, extended family, and the community for their love and support during this difficult time.
In lieu of flowers, please consider making a memorial contribution to St. John's Lutheran Church, West Bend Little League (809 S. 6th Ave., West Bend, WI 53095), West Bend East High School Sports Programs (1305 E. Decorah Rd., West Bend, WI 53095), or Living Word Lutheran High School Golf Program (2230 Living Word Ln., Jackson, WI 53037).
Click HERE for a tribute article about Jeff Klotz at WashingtonCountyInsider.com