Obit: Leonard J. Weisling, 85, Kewaskum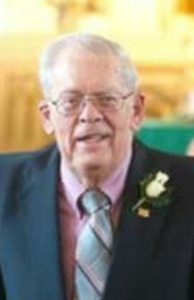 Leonard J. Weisling, 85, of Kewaskum, passed away on Monday, July 11, 2016, at St. Joseph's Hospital in the town of Polk.
Leonard was born on August 11, 1930, in Milwaukee, the son of the late Henry and Suzanne Weisling. On June 26, 1954 he was united in marriage to Victoria Waldbauer at Holy Redeemer Church in Milwaukee. Victoria preceded Leonard in death on June 24, 1978. On February 28, 1981, he was united to Joanne Leister at Our Lady of Good Hope Church in Milwaukee.
Leonard was a member of Holy Trinity Catholic Church in Kewaskum. He was a proud retired teamsters local 200 member. Leonard enjoyed his family and grandchildren immensely. He will be fondly remembered for his big heart and his words of wisdom.
Those Leonard leaves behind to cherish his memory include his wife, Joanne; his children, Victoria (Ramesh) Kamath of Milwaukee, Joseph (Deborah) Weisling of Colgate, Marie Weisling of Indiana, Christine (Charles) Schreiner of Wausau, Mary (Peter) Cornelius of West Bend and James (Nancy) Leister of Kewaskum; a son-in-law, David Nield of Illinois; 16 grandchildren, Jeremy (Jessica) Weisling, Brynn Weisling, Adam (Lindsay) Cornelius, Meera (Matthew) Schultz, Jacob (Brittney) Cornelius, Maya Kamath, Genevieve Nield, Mary Jean (Matthew) Zirnhelt, Thomas Nield, Vijay Kamath, Daniel Nield, Joseph Nield, Abigail Leister, Anthony Leister, Jonathon Leister, and Benjamin Leister; six great grandchildren, Sophia Cornelius, Kaylee Schultz, Dominic Cornelius, Mason Cornelius, Mackenzie Schultz, and Katherine Zirnhelt; a sister-in-law, Harriet Weisling of Germantown; nieces, nephews, other relatives and friends.
In addition to his parents and Victoria, Leonard was preceded in death by a daughter, Barbara Nield; brothers and sisters.
A Mass of Christian Burial for Leonard will be held at 6:00 p.m. on Friday, July 15, 2016, at Holy Trinity Catholic Church in Kewaskum with Rev. Mark Jones officiating. Burial will take place at 9:00 a.m. on Saturday at Resurrection Cemetery in Mequon.
Leonard's family will greet relatives and friends at the church on Friday from 3:00 p.m. until the time of Mass.