Obit: Margaret H. Nielsen (nee Prehn), 94, of West Bend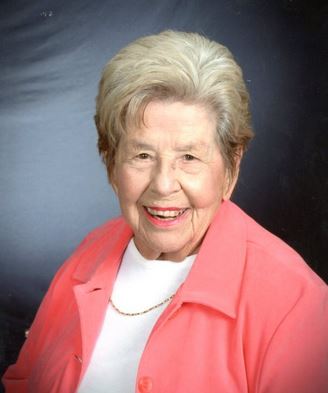 Nov. 30, 2016 – West Bend, WI – Margaret H. Nielsen (nee Prehn), 94, of West Bend, Wisconsin, passed away on Tuesday, November 29, 2016 at Kathy Hospice with her family at her side.
Margaret was born in Wausau, Wisconsin on April 25, 1922 to the late Arthur and Gertrude (nee Magee) Prehn. Margaret graduated from Wausau High School in 1939, the University of Wisconsin in 1943, and the University of Wisconsin School of Nursing in 1945.
She met her husband-to-be, William Arthur Nielsen, of West Bend, at the University of Wisconsin. They were united in marriage on August 12, 1944 in the First Presbyterian Church in Wausau.
During the time her husband was serving his medical internship at Germantown Hospital PA, Margaret taught in a school of nursing in Germantown, PA. Margaret and her husband, Dr. Nielsen, returned to West Bend in 1947 where he practiced medicine for 47 years. He died in 2009.
Margaret was a member of Trinity Lutheran Church in West Bend. She was active in many community programs and activities.
She served on the West Bend Board of Education, including four years as President. She was a member of the West Bend Police and Fire Commission and the Mayor's Committee on Restructuring Local Government.
She served on the capital campaigns for the Threshold Workshop and Kettle Moraine YMCA. Margaret served on the board of the Kettle Moraine YMCA. She was active in the West Bend Women's Club, the Kettle Moraine Hospice, and the Joseph Marest Chapter DAR where she was the Organizing Regent. Margaret was involved closely in the Associate Degree Nursing Program at the Kettle Moraine Technical School and served on the Kettle Moraine Nursing Advisory Committee until recently.
She was active in the Washington County Medical Auxiliary, developing scholarship programs for nursing students. Margaret was a member of the West Bend Country Club, serving as President of the Women's Golf Association, and the Cedar Lake Yacht Club. These activities and the people with whom she worked all played an important part in her life. She corresponded with friends, relatives, and fellow workers throughout the country. Margaret presently was serving on the University of Wisconsin -Washington County Council.
Margaret has been an active University of Wisconsin alumni, serving on the National Board of Directors of the University of Wisconsin Alumnae Association. She received the Distinguished Service Award from the UW Alumnae Association. Margaret served on the University of Wisconsin Board of Visitors and the State Advisory Council on Vocational and Technical Education. She was a lifetime member of Alpha Chi Omega.
Margaret continued to be active in many projects and programs involving nursing and education. She enjoyed genealogy, family history, bridge, golf, family reunions, travel, and Cedar Lake activities in the summertime.
Those Margaret leaves behind to cherish her memory include her four children, Judy (Gary) Shabino of Barrington, IL; Bill, Jr., El Granada, CA; Susan (Terry Vorel) Nielsen of Lake Zurich, IL; David (Susan) Nielsen of Houston, TX; five grandchildren, Jeff (Katherine) Shabino of Cary, IL, Carrie (Jonathan) Adolph of Chicago IL, Kristy (Ben) Whipple of Chicago, IL, Ellen Margaret Nielsen and David Andrew Nielsen, Jr. of Houston, TX; seven great grandchildren, Brittany Ann, Erin Margaret and Mollie May Shabino of Cary, IL, Madeline Sydney and Parker William Adolph of Chicago, IL, and Grant James and Carter Benjamin Whipple of Chicago, IL; other relatives and friends.
In addition to her parents, Margaret was preceded in death by her sister, Ruth (Arthur) Prehn Vint, and brother, Charles (Marion) Prehn.
A memorial service in remembrance of Margaret will be held on Friday, December 2, 2016 at 11:00 a.m. at Trinity Lutheran Church, 140 N. 7th Ave., West Bend. Inurnment will follow at Washington County Memorial Park.
The family will greet relatives and friends on Thursday, December 1, 2016 from 3:00 p.m. until 6:00 p.m. at the Myrhum Patten Miller Kietzer Funeral Home, 1315 W. Washington St., West Bend. On Friday, December 2, 2016, visitation will be at the church from 10:00 a.m. until the time of service.
The family suggests memorial donations be made to the Nielsen Scholarship Fund of the UW Madison Alumni Club of Washington County or to the building fund of Trinity Lutheran Church.