Obit: James M. Wallesverd, 86, of West Bend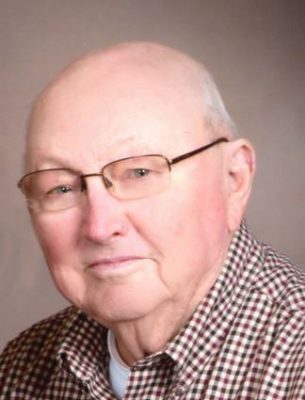 Nov. 30, 2016 – West Bend, WI – James M. Wallesverd, 86, of West Bend, found eternal peace on Monday, November 28, 2016 after suffering a stroke.
Jim was born on December 22, 1929 to the late Henry and Emily (nee Myrvold) Wallesverd.  He was raised in Woodville, WI and had many happy memories of his childhood there – playing basketball and playing in the high school band. He entered the Army after graduating from Woodville High School.  After his honorable discharge he began his studies at UW-Stout, but stayed in the Army Reserve.  His education was interrupted when he was called back into service two different times.   Following his graduation in 1953 he began teaching industrial arts and coaching in Hayfield, MN.
On August 14, 1954 he married Avis Reschenberg and they began their life journey in Ashland, WI, where he taught metals and coached.  Two years later they moved to West Bend where he continued to teach shop and coach, all while attending graduate school to earn his Masters degree.
In 1964 he was awarded a National Defense scholarship and the family of five moved to Laramie, WY for a year, where Jim earned his professional diploma.  He continued his education to become a school psychologist and served many children and families in the West Bend school system.  He had a special way of encouraging children through fishing and outdoor experiences.
Jim loved the environment.  He and Avis purchased acreage in rural West Bend, where he and the family planted and nurtured hundreds of black walnut and pine trees, along with building several ponds to enhance the "farm".  This was a special place for Jim – hunting and fishing and sharing time with family.  His love and care of the environment led to an award in 1974 in wildlife and soil conservation.
Through his love for wood, Jim began his passion for woodturning.  His first wood turning project of a baseball bat began this gift for creating beautiful wooden bowls and ornaments, which he often donated for various benefits.   He always found beauty and artistry in every piece of wood he touched.
His love for nature extended to Three Lakes, WI where the family spent many summers enjoying their northwoods cottage and creating cherished memories.
Jim and Avis had many rewarding years promoting marriage through presenting Lutheran Marriage Encounter weekends.  Many cherished lifelong friendships came from this work.
Jim was proud of his Norwegian heritage and loved to brag about that.  His love for people and conversation always led to a connection and new friendships.
Family was the most important element in his life.  He never missed an opportunity to share his wisdom and pride and love with them.
Those Jim leaves behind to cherish his memory include his loving wife of 62 years, Avis Wallesverd; three children, Mark (Patricia) Wallesverd of Iron Ridge, Mari Beth (Tom) Borek of Fond du Lac, and Megan (Joe) Munger of Eau Claire; five grandchildren, Claire (Steve) Kelly, Elizabeth (Josh) Miller, James Munger, Mike Munger, and Mark Munger; seven great-grandchildren, Emma Kelly, Henry Kelly, Isaiah Miller, Rachel Miller, Benjamin Miller and twin great-granddaughters on the way; a sister, Beulah Fredrick; two foreign exchange granddaughters, Ana and Martha; special friends, Warren Yahr, Don Gibbons, and Dennis Larsen; other relatives and friends.
In addition to his parents, he was preceded in death by his sister, Yvonne (Morris) Tulgren and his brother, Gerard Wallesverd.
A memorial service in remembrance of Jim will be held on Saturday, December 3, 2016 at 11:00 a.m. at Trinity Lutheran Church, 140 N. 7th Ave., West Bend. Rev. David Schoob will be officiating.  Cremation has taken place.  Burial will be at a later date.
The family will greet relatives and friends at the church Saturday from 9 a.m. until the time of service.
In Jim's honor, the family appreciates memorials to Trinity Lutheran Church, Kathy Hospice, or planting a tree in his memory.