Obit: Margaret McConnaughay, 92, West Bend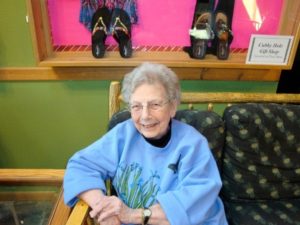 Margaret McConnaughay passed away on August 30, 2016. She was born in Milwaukee, WI July 4, 1924 to Harris and Adel (Puls) Schowalter. She was raised and schooled in Milwaukee. Margaret acquired her love for education from her father who had earned his Master's degree at Northwestern and was a principal for many years with the Milwaukee Public Schools. In 1942 Margaret left home to attend the University of Iowa in Iowa City. There she met and married Dr. Alfred Steitz Jr. in 1944. The couple moved to Elizabeth, NJ where Al started his illustrious career with Standard Oil as a research chemist in the petrochemical industry and they started their family.
In 1947 Margaret and Al moved to Tulsa, OK. After her two children were born Margaret went back to college. She earned her BS degree from Tulsa University in 1957 with a double major in Education and Home Economics. Margaret then began her long career as an elementary school teacher.
In addition to her teaching Margaret developed a love for gardening and birding. She and her family traveled extensively through the national parks in the US as well as Mexico, Europe, and Canada. In 1960 Margaret and her family moved to Flossmore, IL where she continued her teaching career. In both Tulsa and Flossmore, Margaret won many awards for her outstanding teaching abilities. In 1968 Margaret relocated again this time to Batavia, IL where she continued her teaching and again won numerous distinguished teaching awards. When Al died in 1971 Margaret continued with her teaching and at the same time earned her Master's degree from Northern Illinois University in 1973. That same year she became the first Director of Instruction for the Batavia Public Schools.
In 1974 Margaret met James (Mac) McConnaughay and they married in 1975. Margaret quickly adjusted to having a second family with the addition of Mac's four children. Margaret retired from teaching and educational administration in 1978. She and Mac loved to travel and they became snowbirds with summers at Mac's cottage in Oxford, WI and winters in West Palm, FL. Mac died in 2004.
Margaret loved plants and gardening as well as antiques and antiquing. She enjoyed living and had a good sense of humor. She was a warm and generous person. She is preceded in death by her brother Rev. Curtis T. Schowalter (Marjorie). She is survived by a brother Richard Schowalter (Lynn) and six children Dr. Jean A. Steitz, William A. Steitz, Phil McConnaughay (Janet), Sue Frank (Larry), Jane Yanagida (John), Tom McConnaughay (Kelly), and 10 grandchildren and 2 great grandchildren.