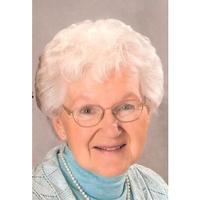 March 31, 2017 – Allenton, WI – Margaret T. Konrath, age 84 formerly of Allenton, died Thursday, March 30, 2017 at Aurora Medical Center in Hartford, WI. She was born on March 23, 1933 to Emil and Mary (nee Burg) Moser in Nenno.
Margaret graduated from Hartford High School and married Allen A. Konrath on July 25, 1953 at Ss. Peter & Paul Catholic Church in Nenno. Together, they owned and operated Konrath Painting and Riveredge Laundry. Spending time with and caring for family and friends brought her great joy. She will always be remembered for living her faith while raising her children and spending time with her grandchildren and great-grandchildren.
Margaret is survived by her six children: Gary (Carrie) Konrath, Paul (Roxanne) Konrath, Jeff Konrath, Cheryl (Steve) Vogt, Steve (Carol) Konrath and Andy Konrath, 6 grandchildren: Kristen (Jason) Heinecke, Jamie (Martin Jr.) Harris, Katalin Vogt, Jared Vogt, Garrett Konrath and Carlene Konrath and 4 great-grandchildren: Breanne and Bristol Harris and Ashley and Collin Heinecke. She is further survived by her sisters Veronica Gindt and Mary Rose Thull, brother-in-law Lloyd (Patricia) Konrath and sister-in-law Dorothy Konrath.
She is preceded in death by her husband Allen Konrath, her parents Emil and Mary Moser, twin sons at birth, sisters: Valeria (Ewald) Wolf, Delores (Leo) Bodden, Clarice (Herman) Theisen and Janet Moser; brothers: Victor (Cyrilla) Moser and Gilbert (Lucina) Moser and brothers-in-law and sisters-in-law: Gilbert Gindt, Edmund Thull, Annabelle (Vincent) Moser and Hubert Konrath.
A Mass of Christian Burial will be held on Sunday, April 2, 2017 at 4 p.m. at Resurrection Catholic Church in Allenton with the Very Rev. Richard Stoffel presiding. The visitation will be Sunday, at the church only from 2:00 p.m. until 4:00 p.m.
In lieu of flowers please consider a memorial donation to the Threshold, Inc. or the Parkinson's Disease Foundation (www.pdf.org)
We would like to extend a heartfelt Thank You to the staffs of Cedar Bay East Assisted Living, Aurora Medical Center in Hartford and Aurora at Home Hospice for their loving and compassionate care.
The Schmidt Funeral Home in West Bend is serving the family.