Obit: Marjorie "Marge" Helen Ashenmacher, 90, Hartford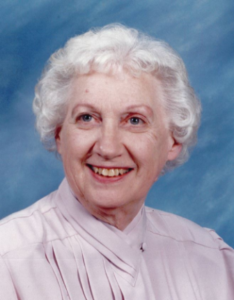 Marjorie "Marge" Helen Ashenmacher, age 90, found eternal peace in Christ on July 11, 2016, at Barrett House in Markesan.
Marge was born in West Bend on June 12, 1926, to Louis and Clara (Jansen) Kauper. She spent her formative years in the Washington County area.  As a child she loved horses and led trail rides at a local riding academy.  During her teen years she trained as a Candy Striper (nurse assistant) and worked in the Western Union telegraph office, taking messages and delivering them by bike.  She and other students supported the war effort by helping collect tin cans and sending the Milwaukee Journal Green Sheet to soldiers.  Her correspondence with local soldiers was a step leading to marriage with Joseph M. Ashenmacher on December 15, 1945, at Peace Lutheran Church in Hartford.  Marge and Joseph settled into the Hartford area and had two sons and two daughters together.
Marge's adult years were filled with work, recreation, travel, friends, and family.  She worked as a clerk at a grocery store and a department store in Hartford.  She also worked at the Hartford hospital and spent several work years at light-assembly prior to retirement.  She loved roller skating, hiking, biking, swimming, and other recreational activities well into her retirement years.  As the family grew, she enjoyed attending her children's, grand-children's, and great grand-children's school events.  Generations gathered for the wonderful holiday dinners she and Joseph hosted over the years.  She was actively involved at Peace Lutheran Church in Hartford as a member of the Missionary Society and an officer in Ladies' Aid.  Her travels took her to England with her husband Joseph, who enjoyed introducing her to the country and friends he had grown to love while stationed there as an Air Force pilot in World War 2.  Upon retirement she traveled to points east and west throughout the United States.
Those whom Marge leaves behind to cherish memories of her include — children Linda Margelofsky, Diane (Bob) Kellbach, and John Ashenmacher – grandchildren Sheila Ninneman, Lora (Mark) Ehlert, John Kellbach, Patrick (Jenny) Margelofsky, and Jennique Stadtmueller – great-grandchildren Jamie Ehlert, Dustin Ehlert, Lily Kellbach, Jacob Ninneman, Mark Ninneman, and Erick Ninneman – and many other relatives and friends.
Other than her parents, Marge is preceded in death by her husband Joseph, their infant son Joseph Patrick, sister Mildred (Mike) Netwal, and son-in-law Roger Margelofsky.
A time of visitation will be held from 10:00 – 11:00 a.m. at Peace Lutheran Church in Hartford with a service at 11:00 a.m. and burial immediately following at Pleasant Hill Cemetery.
In lieu of flowers memorials to Peace Lutheran Church are appreciated.
The family extends its appreciation to the staff of Samuel's Grove Apartments and Barrett House of Markesan for their care and kindness to Marge during the past several years.  The family also thanks Agnesian Hospice Hope for their comfort and care during the end of Marge's life.