Obit: Mathias Heltemes – Former WB police officer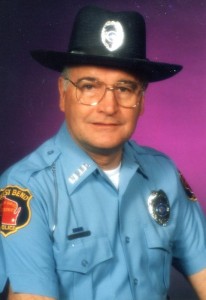 Mathias A. "Matt" Heltemes, 78, of West Bend, passed away on Thursday, January 7, 2016, at Kathy Hospice in the town of Polk with his family at his side.
Matt was born on March 3, 1937, in Wadena, Minnesota, the son of the late Mathias and Frances (Vorderbruggen) Heltemes. On April 25, 1959, he was united in marriage to Mary Smith in Bluegrass, Minnesota.
Matt proudly served his country in the U.S. Army from 1956 to 1958. After the Army he had numerous jobs, working with sheet metal and serving on the Whitefish Bay Fire Department for three years before joining the West Bend Police Department. Matt retired from the police department in 1992. His career with the police department included four years as a juvenile detective officer and he was a field training officer. Matt enjoyed hunting, fishing, playing cards, and camping in a different State each summer. He loved spending time with his family, grandkids and great grandkids.
After Matt retired, he and Mary moved to Missouri for 17 years. He was a member of Our Lady of the Cove Church in Kimberling City, Missouri where he served as an usher and was a member of the Knights of Columbus.
Those Matt leaves behind to cherish his memory include his wife, Mary; three children, Marie (Mike) Fiebig and Monica (Alan) Lepak both of West Bend and Mathias (Luann) Heltemes of Longmont, Colorado; eight grandchildren, Jennifer (Darren) Taylor, Robert Fiebig, Sarah (Mike) Westra, Melissa Lepak, Colleen Lepak, Jamie Lepak (special friend, Jessica), Melinda Heltemes and Bradley Heltemes; six great grandchildren, Landyn, Charlie, Eli, Colton, Myles, and Charlotte; a brother, Ervin (Joanne) Heltemes of Cudahy; a sister, Marian Brockpahler of Sebeka, Minnesota; a brother-in-law, John Kopischke, other relatives and friends.
In addition to his parents, Matt was preceded in death by six brothers, Leonard, Walter, Arthur, Jerome, Andrew and Louis Heltemes; two sisters, Irene Kopischke and Mabel Heltemes and a brother-in-law, Walter Brockpahler.
A Mass of Christian Burial for Matt will be held at 11:00 a.m. on Wednesday, January 13, 2016, at St. Mary's Immaculate Conception Catholic Church, 1610 Monroe Street, in Barton. Father Nathan Reesman will officiate and burial will follow in St. Mary's Cemetery (New) in the town of Barton.
Matt's family will greet relatives and friends at the church from 9:00 a.m. until the time of Mass.
The Heltemes' family would like to extend their appreciation to Kathy Hospice,  St. Joseph's Hospital, and Dr. Herdrich for the care provided to Matt.
The Myrhum Patten Miller and Kietzer Funeral Home has been entrusted with Matt's arrangements. Additional information and online guest book may be found at www.myrhum-patten.com.