Obit: Michael Steven Glander, 37, of West Bend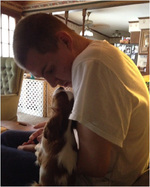 May 19, 2018 – West Bend, WI – Michael Steven Glander was called home to heavenly father on May 15, 2018.
He was born on October 25, 1980 to Steven and Cheryl (nee Pavlak) Glander in West Bend. He graduated from West Bend East High School in 1999. Following high school, he attended PC Productivity for IT certification. He was planning to return to school to study HVAC. He was an extremely hard worker who took great pride in his work while employed at Quad Graphics in Harford and later at Gardner Pet in West Bend.
Mike was a kind and generous person that never judged anyone. He faced many unforeseen hardships in his life, but always lived with a spirit of hope and promise. He loved animals and was a talented artist who loved to draw. Among his favorite activities were attending Bucks and Brewers games, trips to Navy Pier and Willis Tower in Chicago, vacationing at Disney World, spending time with his friends, family and his beloved canine companion, Molly. Mike has touched many people's lives and will be missed by all who knew him.
Those Mike leaves behind to cherish his memory include his mother and father, his sister Amy, dog Molly, and other friends and relatives.
He is preceded in death by his paternal grandparents, Howard and Darlene Glander; his maternal grandparents, David and Marilyn Pavlak; an aunt, Susan Kercher; and two cousins, Melissa and Daniel Kercher.
A public visitation in remembrance of Mike will be held on Tuesday, May 22, 2018 from 5:00 p.m. to 6:00 p.m. at the Phillip Funeral Home Chapel (1420 W. Paradise Drive, West Bend) with a funeral service to follow. His legacy and love will last forever in the hearts of his friends and loved ones, and we look forward to being reunited with him in Heaven.