Obit: Morton 'Mort' Whitney, 91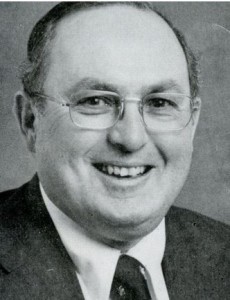 Morton J. "Mort" Whitney, 91, of West Bend, passed away on Wednesday, March 16, 2016, at the Lighthouse in West Bend.
Morton was born on April 22, 1924, in Hartford, the son of the late Fay and Hazel (Johnson) Whitney. On May 2, 1959, he was united in marriage to Mary Scholler at St. Jude the Apostle Catholic Church in Wauwatosa.
Morton graduated from Marquette University NROTC program with a degree in electrical engineering in June 1945 and served in the South Pacific until 1946. He was working at Minneapolis Honeywell in 1952 when he was recalled into active duty to serve at submarine bases in Florida and Connecticut for two years. In 1961 he was released from inactive standby duty with the position of Lieutenant Commander.
In March 1955 he started his career at the West Bend Company which lasted 33 years. When he retired in 1988 he was manager of Quality Assurance and Product Safety.
Morton was a hardworking man of integrity. After retirement he worked at various lawyer offices helping with income taxes and he was always working on a home improvement project to keep busy.
Those who will always remember and love Morton are his wife, Mary; his daughter, Jane (Allen) Brath of West Bend; his son, Michael (fiancé, Michelle) Whitney of Florida; a brother, Bill (Mary) Whitney of West Bend; two brothers-in-law, Robert (Cathy) Scholler of Michigan and Louis Ledebuhr of Menomonee Falls, other relatives and friends.
In addition to his parents, Morton was preceded in death by his brother, Don Whitney; a sister-in-law, Dorothy Ledebuhr.
Funeral services for Morton will be held at 4:30 p.m. on Sunday, March 20, 2016, at the Myrhum-Patten Funeral Home, 1315 West Washington Street, in West Bend. Father Nathan Reesman will officiate and private burial will take place at Washington County Memorial Park in West Bend.
Morton's family will greet relatives and friends at the Funeral Home on Sunday from 2:30 p.m. until the time of service.
Memorials to Family Promise of Washington County (724 Elm St. #102, West Bend) are appreciated.
The Myrhum Patten Miller & Kietzer Funeral Home has been entrusted with Morton's arrangements. Additional information and guest book may be found at www.myrhum-patten.com.
The family would like to thank all the staff at the Lighthouse and Serenity Hospice for the excellent care Morton received. They also extend their appreciation to Dr. Trivedi, Dr. Jella, and Dr. Shah for their care and concern.
---