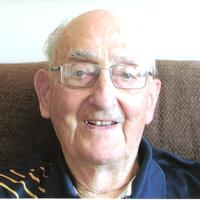 May 4, 2017 – West Bend, WI – Raymond (Chappy) Chapman, age 96 from West Bend was born to new life on May 03, 2017.
He was the beloved son of the late Henry & Minnie (Meyer) Chapman and a brother to 10 siblings: Milford, Elmer, Eugene, Jerry, Laverne, Leroy, Lucille, Leo, Clarence and Richard. All have preceded him in death.  Also, preceding him on his heavenly journey were his daughter-in-law Jodie and his special bride Helen, fondly referred to as "Schatzie".
They were united in marriage on September 02, 1946 at St. Mary's Immaculate Conception Church and enjoyed sixty-nine years of wedded happiness together.
Interestingly, Ray received his name "Ray" as he was born in an attached shelter to their home in Random Lake. The sunshine was brightly beaming down through the window above the crib. So his parents decided to name him "Ray".
Raymond honorably served in the U.S. Army during World War ll as a corporal cooking for officers. He was stationed in Africa and Italy.  Ray was a member of the VFW for many years.
Chappy's career included working in a factory, painting, working as an apprentice electrician and meat cutting. In 1959, Ray opened Chapman's Market on the north side of town.  His meat market was famous for its summer sausage, brats, and minute steaks.  He serviced customers across the country and forwarded summer sausage to soldiers in Vietnam.
His business success was attributed to a strong work ethic and a jovial personality which he whole-heartedly shared with his customers, friends, and family.
Hobbies included fishing, fishing, and fishing. He loved fishing!.  He also spent much time in the woods gathering morel mushrooms and hickory nuts.  Ray has a passion for wood carving.  Many people over the years were the happy recipients of whittled folk-art birds, fish, Christmas ornaments, and human figurines.  Amazingly he never charged anyone for these works of art and he was always willing to teach anyone interested in the hobby. At 96, he still turned out figures using only a pocket knife, continuing to make people happy.
It's what he did. Chappy was a very social individual willing to help out where needed and caring for his fellow senior-living residents these past three years.
Those left behind to cherish this special person's memory include his sons Mark (Jean) and Ken (fiancée Jayne), grandchildren: Dawn (Jim) Pierce, Angela (Joe) Zeka, Stacy (Kelby) Stewart, Kori, Krista, Noah Chapman: Great-grand children; Riley Pierce, Nathaniel, Tyler, and Ashlynn Zeka, Colton and Liam Stewart and many friends and admirers.
The family wishes to thank in a special way those whom helped Ray in his final days. These include nurse Kelly (Doc), the New Perspective caregivers, and the Four Seasons Hospice staff. May God bless and reward them for their extraordinary care.
A Mass of Christian Burial is scheduled for Friday, May 12, 2017 at 11 a.m. at St. Frances Cabrini Catholic Church with Fr. Justin Lopina presiding. Burial will follow in Holy Angels Cemetery.  Visitation will be at the church on Friday from 9:30 until 10:45 a.m.
In lieu of flowers, the family requests that donations be made to St. Frances Cabrini, St. Vincent DePaul, or a charity of your choice.
The Schmidt Funeral Home of West Bend is serving the family.