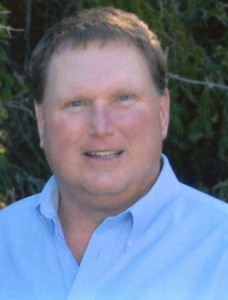 Bob "Doe" Thomas, 55, Fredericksburg, VA resident, passed away unexpectedly in Alamogordo, NM on Saturday, March 19, 2016.
Bob was born October10, 1960 to Patricia and the late Donald Thomas.  He graduated from West Bend East High School class of 1979.  He graduated from UW-Stout in December of 1983 with a Bachelor of Science in Construction Management.
He married his best friend Mary Jo (Sturke) Thomas on May 26, 1990 at St. Edward & Isidore Catholic Church in Flintville, WI.
Bob worked for Gilbane Building Company for 26 years as a Sr. Project Manager.  At the time of death he was working at the Hollman Airforce Base, Alamogordo, NM.  His job took him to Maryland, New York, Virginia, California and New Mexico.
Bob and Mary Jo loved to travel especially to their second home in North Carolina.  He loved to follow his favorite sports teams especially the Green Bay Packers and Milwaukee Brewers. His most treasured times were spent with family and friends.  Bob was always the "Big Kid". You could always count on Bob to make a get together a party.  With his humor and antics, he wanted everyone to live life to the fullest as he did.  He looked forward to his yearly Packer Away game and boating with his friends the Bartley's and the Jurss's in La Crosse.
He will be sadly missed by his loving wife, Mary Jo, to whom he devoted his life; his mother Patricia Thomas, West Bend; sister and brother-in-law, Ann (John) Kocher, West Bend; brother and sister-in-law, David (Cynde) Thomas, Boynton Beach, FL; brothers-in-law and sisters-in-law, Bill (Debbie) Sturke, Suamico, Shirley (Leon) Havlik, Suamico, Sharon (Steve) Achten, Suamico, Tom (Sharon) Sturke, Hobart, Barb (Roy) Schroeder, Green Bay and Bev (Dawn Bayer) Sturke, DePere; two special Godchildren, Amanda (Kocher) Swanson and Nathan Bartley; 14 Nieces and Nephews; 13 Great-nieces and nephews; and also many wonderful cousins and friends. He is furthered survived by his Aunt Jeanette Thomas, Uncle Ervin Novak Aunt Arline Wisniewski and special cousins, Cathy Jones and Monica Pawlak.
He was preceded in death by his father, Donald Thomas; father and mother-in-law, Joe and Joyce Sturke; aunts, uncles, and a great nephew.
A memorial mass will be held on Wednesday, March 30 at 6:30 p.m. Holy Angels Catholic Church, 138 N. 8th Ave., West Bend.
Friends may call at the church Wednesday from 3:30 p.m. until time of the mass.
In lieu of flowers, donations can be made to a charity of your choice in Bob's name.
Mary Jo would like to extend a special thank you to Gilbane Building Company for their support at this difficult time, especially Heidi DeBenedetti.  Also, to her family and friends for their love and support.
Bob will always be remembered as a gentle, generous, and giving man with a heart of gold.  A devoted husband, son, brother,brother-in-law, uncle and friend.   Until we meet again,