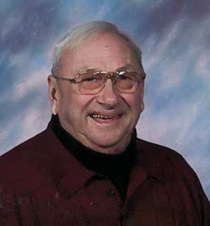 Shawn "Moe" Kell, age 84, passed away peacefully in his home March 18, 2016.  He was born on April 11, 1931 in Hartford, WI to John and Lorena (nee Zimmel) Kell.  Shawn lived his life to the fullest.  He was a Master Carpenter and at the end of the day he enjoyed his Old Fashions.  Shawn was an avid snowmobiler, boater and loved riding his Harley.
Shawn leaves behind to cherish his memories, his loving wife of 65 years, Lorraine (Lulu) Kell, his six children; Kerry (Char) Kell of West Bend, Pamela Kell of West Bend, Kim Skelton (Chris Burns) of Richmond, Virginia, Rick (Sue) Kell of West Bend, Tammy (Greg) Humphrey of Bloomington, Indiana, Shelly Kell of West Bend, Eighteen Grandchildren, Eleven Great Grandchildren, and Shawn's sister Sandy (Paul) Hetebrueg.  Shawn is preceded in death by his parents John and Lorena Kell and his Grandson Jason Skelton.
A Memorial Service will be held at 6:00PM on Wednesday, March 23, 2016 at the Phillip Funeral Home Chapel (1420 W. Paradise Dr., West Bend) with Pastor Steven Bode presiding.  Visitation will be at the funeral home from 4:00PM until the time of service. In lieu of flowers, the family asks that you consider donations to Zion Lutheran Church.
The family would like to extend a special Thank You to Pastor Bode, Dr. Jeffery Smale, Dr. George Michael Mosely and Phillip Funeral Home in assisting the family.