Obit: Virginia I. Hughes (nee Metternich), 96, of West Bend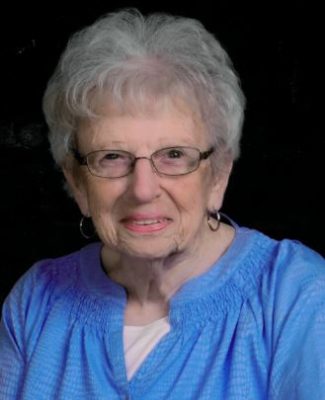 Sept. 19, 2017 – West Bend, WI – Virginia I. Hughes (nee Metternich), 96, went to her heavenly home Monday, September 18, 2017 under hospice care at her home with her family present. Virginia was active in VFW Auxiliary for 59 years and served as the Treasurer for VFW Post #1393 Auxiliary for over 30 years.  She actively assisted with auxiliary events and poppy donations, was the past 6th District President, American Legion (Allenton), Cooties.  She received the Jenette Frank Award for continually going above and beyond, dedicating her life to volunteering for the VFW Auxiliary as well as the community.
She was an active member of Holy Angels Church and taught religious education there for 19 years.
Virginia loved traveling, reading, knitting, crocheting, doing crossword puzzles, taking adventures, 4-wheeling, snowmobiling with her grandchildren and spending time with her family.  She danced every dance at weddings, loved old movies, and shopping.  She was an active supporter of the veterans.  She was an advisor, guide, and mentor to all.  She was very wise and touched all the lives in her family and those who knew her.  Virginia was always concerned about others, she loved life and would never let anyone tell her she was old.  She always said, "I will let you know when I am too old!"
Virginia is survived by her children, Gilbert S. (Mary Lea) Sauer, William D. (Chris) Sauer, Kathleen C. (Robert) Lendosky; Susan J. (David) Rose, Mary J. (Leon) Voigt, John T. (Gwen) Sauer; grandchildren, Kati (Michael) Koller, Amy (Ryan) Bretz, Sara (Robert) Sauer, Stephanie (David) Goodno, BJ (Lindsay) Sauer, Scott (Kayla) Sauer, Jason Rose, Rebecca (Greg) Fleishman, Matthew Rose, Michael (Amanda) Rose, Jerrad (Josie) Voigt, Timothy (Ashley) Voigt, Andrew (Megan) Voigt, Michele (Dan) Drewek, Elizabeth Sauer and 36 great-grandchildren with 2 on the way, many nieces, nephews, other relatives and friends.
Virginia is preceded in death by her husband, Gilbert M. Sauer, daughter Ann Cleary (Sauer), grandson Ryan Voigt, second husband Stanley E. Hughes, great-grandchild Gavin Rose, her parents Henry and Clair Metternich, siblings Clair Sodermann, Henry Metternich, Norbert Metternich, Sr. Elsa (Florence) Metternich SSND, Elizabeth "Betty" Lepkoski, Robert "Bob" Metternich.
A Mass of Christian Burial will be Friday, September 22, 2017 at 6:00 PM at Holy Angels Catholic Church (138 N 8th Ave, West Bend, WI 53095) with Fr. Jerome Repenshek presiding.  Visitation will be at church only on Friday, September 22, 217 from 3 PM until 5:30 PM.
Women's Auxiliaries walk-through will be at 5:45 PM. Private Interment at Holy Angels Cemetery.